Back in the day, it was pretty common practice for foreign horror films to be illegitimately attached to popular American franchises, as a way of luring in audiences, of course under false pretenses. Allow me to elaborate.

Let's say Joe Italiano makes an Italian horror film about killer spiders, in the early '90s. It's called Attaco Dei Ragni, and nobody bothers to see it. So the company in charge of releasing the film here in the states decides to put out the same movie under the title Arachnophobia 2, and suddenly the audiences come out in droves (...hopefully).

See how that works? Whatever it takes to get asses in the seats, as they say!

Here are ten foreign films (mostly Italian!) that were released under the false pretenses that they were sequels to popular horror films, when that actually couldn't have been further from the truth!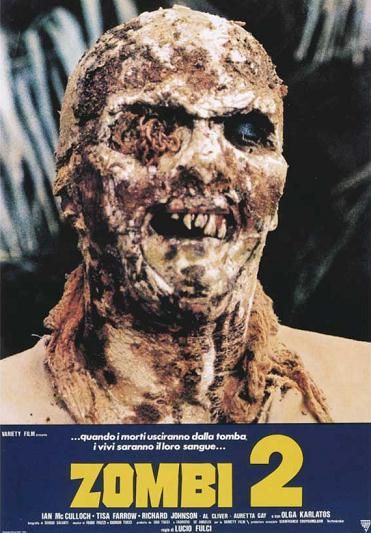 CODE NAME : ZOMBI 2

MOST COMMONLY USED TITLE : ZOMBIE

The most well known case of this happening is of course with Lucio Fulci's 1979 splatter classic Zombie, which was released in Italy under the title Zombi 2. When did Zombi come out, and why the hell have you never seen it? Well, because Zombi was the title George Romero's Dawn of the Dead went under over there in Italy. So when Fulci made his own zombie movie, they decided to call it Zombi 2, tricking audiences into thinking it was actually the sequel to Romero's 'Zombi'.

Aside from the fact that zombies are in both films, the two in reality had absolutely nothing to do with one another.

CODE NAME : SUSPIRIA 2

MOST COMMONLY USED TITLE : DEEP RED

Though made in 1975, Dario Argento's Deep Red didn't see release in Japan until 1978, one year after Argento put out his follow up film, Suspiria. Since Suspiria was already familiar to Japanese audiences at the time, Deep Red was released under the title Suspiria 2, to lure in fans of that film. Posters for this so called Suspiria 2 were in fact even whipped up that used the imagery of the bloody ballerina, from promotional materials for Suspiria. Pretty funny, considering this supposed sequel was made BEFORE the film it was apparently a sequel to!

1990's Troll 2 would appear, on paper at least, to be a sequel to the 1986 horror film Troll, but again, it's got absolutely nothing to do with that film. In fact, the ironic thing here is that Troll 2 is about goblins, rather than trolls, which is just one of the little charms that makes the film so gosh darn loveable. In fairness, the movie was actually shot under the title Goblins, but was changed in an attempt to bring more attention to it.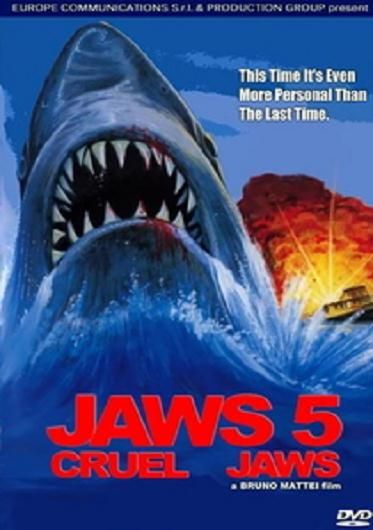 CODE NAME : JAWS 5
MOST COMMONLY USED TITLE : CRUEL JAWS
Though there were of course only four installments in the Jaws franchise, 1995's Italian horror film Cruel Jaws was given the prestigious honor of being titled Jaws 5, for American release. In actuality, Cruel Jaws was just another rip-off of Jaws, directed by Italian filmmaker Bruno Mattei. As if stealing the title (and pretty much everything else) wasn't enough, Cruel Jaws even featured the unauthorized use of clips from Jaws!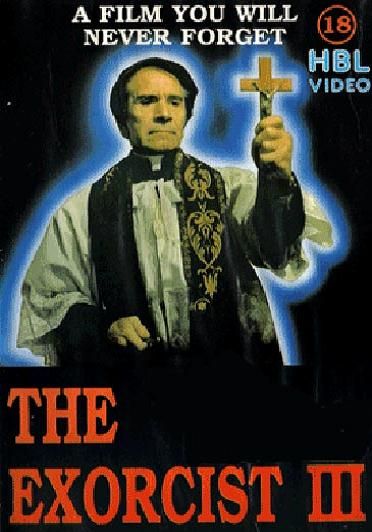 CODE NAME : EXORCIST 3
MOST COMMONLY USED TITLE : NAKED EXORCISM
The Italian film Naked Exorcism was released in Italy in 1975, two years after The Exorcist terrified audiences here in the states. It wouldn't be until a few years later that the film was released in places like Japan and the UK, which was shortly after The Exorcist 2 was made and released in the US. So though the movie was made before any true Exorcist sequels were, it nevertheless hit various markets under the title Exorcist 3, over a decade before the real Exorcist 3 was made!
The US title for Naked Exorcism? The equally deceptive Return of the Exorcist.

CODE NAME : DEMONS 4

MOST COMMONLY USED TITLE : THE SECT

1991's The Sect (La Setta) was an Italian horror film made by Cemetery Man director Michele Soavi, and produced by Dario Argento, who also helped write the script. In an attempt to connect it to the Italian horror franchise Demons (also produced by Argento), it was released in many places under the title Demons 4. The most interesting thing about that is that Demons only actually spawned one true sequel, with Demons 3 merely being used as an alternate title for Lamberto Bava's film The Ogre, which also had nothing to do with the franchise!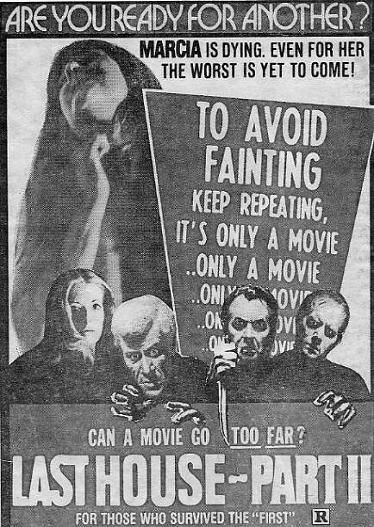 CODE NAME : LAST HOUSE: PART 2

MOST COMMONLY USED TITLE : NIGHT TRAIN MURDERS

Aldo Lada's Night Train Murders, from 1975, was released in the states under a few different titles, most times to capitalize on the success of Wes Craven's low budget shocker. In addition to Last House: Part 2, it also went under the titles New House on the Left, and even Second House on the Left!

Mario Bava's 1971 masterpiece Twitch of the Death Nerve (A Bay of Blood) also saw release in the states under the title Last House on the Left: Part 2, one of the many titles it has been given over the years.

CODE NAME : HOUSE 3

MOST COMMONLY USED TITLE : THE HORROR SHOW

Now this is one very bizarre turn of events, that I've never quite 100% understood. But let me do my best to explain this...

In 1989, a film called The Horror Show came out, which starred genre fave Lance Henriksen. Much like Wes Craven's Shocker, which was released the same year, The Horror Show was about a serial killer who was sentenced to death via electric chair, an execution attempt that only served to make him grow stronger. In other words, it had nothing whatsoever to do with the House films.

For whatever reason (perhaps because Sean Cunningham produced it?) The Horror Show was re-named House 3 in the UK and Australia, to connect it to the success of the House films from the '80s. Now that's all good and well, but here's where things get real odd...

Because of the fact that this film, which had nothing to do with House or House 2, utilized the title House 3, the makers of the true second sequel to the House franchise were forced to call their film House 4, even though it was actually the third installment in the franchise. So House 4 is actually technically House 3, and House 3, aka The Horror Show, has nothing to do with House, House 2, or House 4.

Phew. That was exhausting to even think about!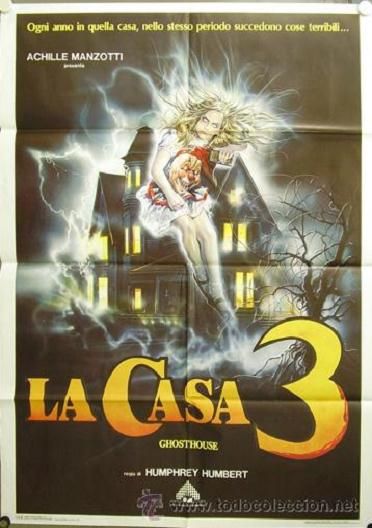 CODE NAME : EVIL DEAD 3

REAL NAME : GHOSTHOUSE
Four years before Sam Raimi made Army of Darkness, which was technically Evil Dead 3, Italian filmmaker Umberto Lenzi made a film called Ghosthouse, about a haunted house. Evil Dead and Evil Dead 2 went under the titles La Casa and La Casa 2, in Italy, and Ghosthouse became known as La Casa 3 ... also known as, Evil Dead 3. The bogus Evil Dead 3 would go on to spawn an Evil Dead 4 and even an Evil Dead 5, though unfortunately the real franchise ended at just three installments.

PARANORMAL ACTIVITY 2: TOKYO NIGHT
We end things tonight with the most recent illegitimate sequel on this list, from just a few years back.

Cashing in on the success of 2007's Paranormal Activity, a Japanese filmmaker decided to essentially make the Japanese version of the film, which he called Paranormal Activity 2: Tokyo Night. Causing much confusion, the film was actually released worldwide, including here in the states, under that title, even though it had nothing to do with the American franchise. The real Paranormal Activity 2 was released the very same year.
__________________________________
Goddamn, it is confusing being a horror fan sometimes. But I hope this post has served to clear up some confusion, about some of these titles!