On January 3rd of this year, the virtual doors to
Amityville Ink
were opened up, an online shop that is set to specialize in horror themed art, in the form of both screen printed posters and t-shirts. Though they've only got five products listed on the site at the moment, two of which have a 'Coming Soon' status, methinks I've seen enough to get me excited about the future of this company. Let me show ya what I mean!
First up we've got this awesome Hellraiser print, which was done up by London 1888's Christopher Ott. The print measures 18"x24", is limited to 125 pieces and can be picked up today for $30.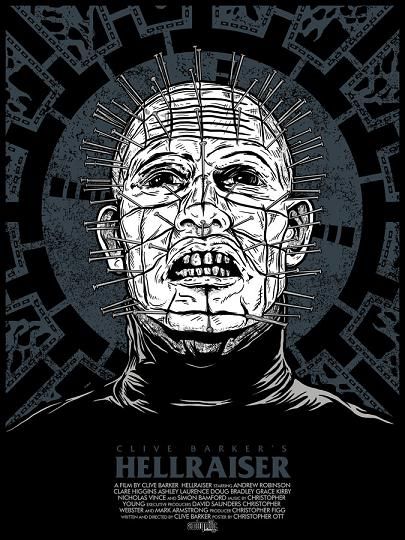 This is the silver variant of the same print, which is limited to only 50 pieces, and is selling for $40.
Chris Ott also whipped up this Pet Sematary inspired t-shirt for Amityville Ink, which is available in sizes Small to 3XL and is selling for $20.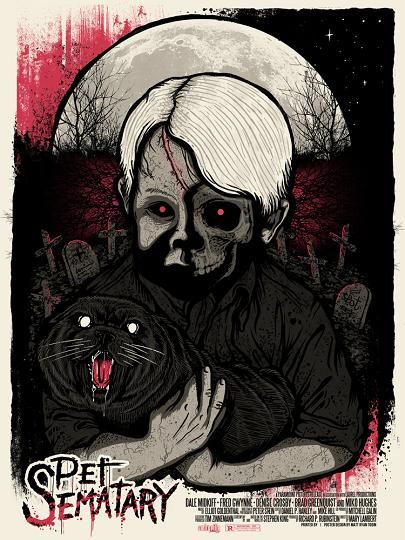 Speaking of Pet Sematary, check out this print from artist Matt Ryan Tobin, which is slated for release mid-January. It will be selling for $30.
And finally, we've got my favorite piece of art from Amityville Ink thus far, which is dubbed 'Inverted Overlook', and features an upside down cross that's in the design of the iconic hotel rug from The Shining. Too cool. This shirt is coming soon, with no release date listed on the site.

If you head over to
London 1888's Facebook page
, you will find a 20% off Amityville Ink coupon code, which is good through the month. You'll find it at the top of the Facebook page, and when you click to claim the offer, the coupon code will be e-mailed to you. So definitely take advantage of that!
Also be sure to become a fan of
Amityville Ink on Facebook
, so you can keep up to date with all the cool new stuff they put out. If what they've got available now is any indication, this is gonna be one company to keep your eye on this year!