Certainly the most shocking gift I got for Christmas came courtesy of my lovely wife Jen, who went above and beyond the call of Christmas duty by bestowing upon me what I now consider to be the crown jewel of my collection of cool shit that she somehow allows me to fill the majority of our home with.
But before I show it off, here's a little backstory!
At a Monster Mania convention back in 2011, Jen and I were introduced to an artist by the name of Brian Dunn, a creature designer who makes life size busts and other incredible works of art. It was at that convention that Brian had for sale a full sized head and shoulders
bust of Sam from Trick 'r Treat
, which blew both of our minds to the point that we were pretty sure there was no way we were ever going to be able to leave the convention without pooling together all of our remaining money to purchase it. Which is precisely what we ended up doing. Not a day has gone by since where I haven't looked up at the bust and smiled, and I have certainly never for a second regretted dropping nearly 200 bucks on it. It'd be a bargain at double the price, as far as I'm concerned.
Since that show, Jen and I have become friendly with Brian, and we always stop by his table at every show, where we can usually be found taking pictures and staring at his work with our drunken jaws on the floor. I can never really afford to shell out the money to buy his stuff, but I always make sure to purchase a little something small from his table, such as a few incredibly cool
Trick 'r Treat Madballs
he had for sale at the last Monster Mania.
So then, Christmas morning. Jen's final gift to me was housed inside a pretty large box, which I tore open to reveal a display stand, which was sitting on top of something else that was wrapped up. I immediately recognized the display stand as one of Brian's, and I'm pretty sure in that moment my face lit up brighter than the lights on our shitty fake Christmas tree.
So what bust did Jen have Brian make for me? Well, I think I'll just go ahead and show ya, since pictures are gonna speak a whole lot louder than words right about now!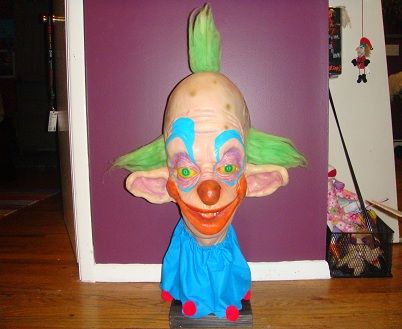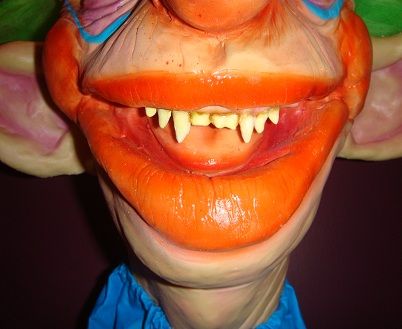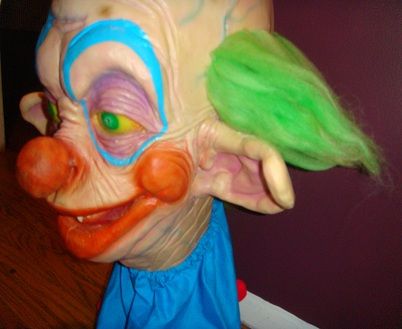 Though pictures may speak louder than words here, pictures really don't even speak nearly as loud as this thing does in person. I am absolutely in awe of the beauty of this thing, and the craftsmanship that went into making it. The eyes are shiny, the mouth is wet, the teeth feel like real teeth and the hair feels like the cotton candy the Klowns encase their victims in ... every little aspect of this bust is just incredible, and it looks and feels more like an actual prop from the set of the film, than it does a fan made replica. Hell, this thing probably looks better than the actual mask from the movie did!
It's hard to tell by pictures, but the bust is absolutely enormous. It measures over 30 inches high, with an ear span of a whopping 18 inches. It's truly like having Shorty right here with me, in my house, which makes me one seriously happy horror geek!
Of all the horror merchandise I own, and I own a whole lot of it, the three most prized pieces in my collection are the few top quality busts I've gathered in recent years; this one, the aforementioned Sam bust, and
one of Victor Crowley
that I splurged on last year. There's just nothing cooler to me than something like this, a real piece of art that makes me feel I've got my favorite character on display in my home. Though they don't run cheap, I feel it's worth every penny to buy from an artist who really goes above and beyond to deliver screen accurate movie quality pieces. You get what ya pay for, and Brian Dunn is all about giving you what you're paying for.
I cannot recommend enough that if you're looking to buy a top quality bust, you should check out Brian's work, and buy from him. If he doesn't have what you're looking for, see if you can get him to do a custom piece for you. You're not gonna find any better quality work than the work Brian puts out, of that I can 100% assure you.
Check out Brian's website,
Alter Ego Dezines
, to see more. I'd imagine Brian will someday soon be hired to work on movies, so buy something from him while he's still easy to get a hold of!!