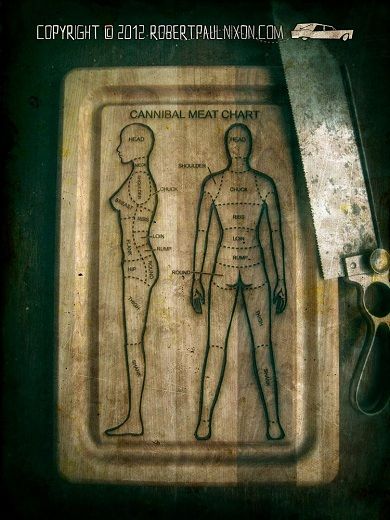 Whether you've got a taste for meat, vegetables or human flesh, no kitchen is complete without a cutting board. This one by artist Robert Paul Nixon is specifically tailored to the Hannibal Lecters of the world, but feel free to cut up whatever you like on it. Just don't knock a medium-rare human rump roast, till ya try it. That's all I ask. Mmmm mmmm, good.
With laser etched graphics, the Cannibal Cutting Block is available in two sizes; 7"x10", for $40, and 10"x15", for $90. Quantities are very limited on both sizes, and from what I gather, they're gone for good, once they're gone.
Head over to
Robert Paul Nixon's online shop
to grab one for yourself, or that twisted loved one in your life, and be sure to stop by
his Facebook page
to see more of Nix's awesome art!