Back in November of last year, I did a 2012 Freddy In Space Gift Guide post about a
Killer Klowns inspired piece of art
from artist Aaron Crawford, who sells his art under the banner CavityColors. I've since talked back and forth with Aaron a bit, and since I'm a huge fan of his work, which somehow manages to blend together horror, delicious dessert treats and a few hits of acid, I recently pitched him on the idea of partnering up for a little giveaway. Because when I love something, I love to help get that something out there in the world, and into the homes of you loyal readers of this here blog. That's just how I roll.
Not only was Aaron more than eager to partner up for such a giveaway, but he pretty well proved to me that he's as awesome as his art is when he told me to hand pick not one, not two, not even three ... but FIVE art prints from the CavityColors online shop, to giveaway in one massive bundle to one of you awesome readers. Because, well, that's how Aaron rolls.
But before we get to all that good stuff, let's learn more about Aaron, and his art, courtesy of a quick copy and paste job from the CavityColors website!
Aaron, the founder of CAVITYCOLORS, is a full-time artist / illustrator living in Augusta / Atlanta, GA. He creates nightmarish characters which can be seen on paintings and merchandise for bands, prints, and whatever else he decides to cover in his brightly colored monsters. He began doing art fulltime in 2003, but has been drawing and doodling since he could hold a pencil. Heavily inspired by horror movies, he spends his time creating stomach churning scenes with the deformed, skulls, demons, claws, slime, wrinkles, razor teeth and contorted limbs, he forces you into an alternate reality where the grotesque and evil aren't ashamed to flourish. He first started doing clothing and logo branding for smaller hardcore and metal bands locally, but soon began doing work for national acts + companies across the country, such as The Used, Necro, Suicide Silence, All Shall Perish, and others.
ABOUT THE BRAND:

I created CAVITYCOLORS in mid 2012 with the hopes of combining my love of art, monsters, Halloween, and horror, and celebrating all of these influences together with friends, while also attempting to invoke the same feeling you get while eating a slice of birthday cake with ice cream on top and watching your favorite slasher movie after midnight. I consider fans of horror and art to all be united as a family with a collective passion that we all share in some form or another. Applying all this into the brand, CAVITYCOLORS makes items to celebrate the things we love, through clothing, prints, books, stickers, and other things that we can all enjoy (or hate) together
_______________________________________
Well said, good sir. So then, what five CavityColors prints did I choose? Let's take a look, shall we?!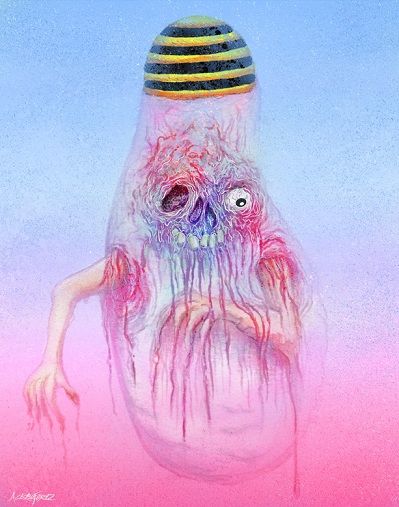 This first one is the Killer Klowns print that I mentioned at the top of this post, which I posted about last year. It's a super limited edition, of only 20 pieces, and measures 11"x14".
You're also going to be getting this just released second take on the infamous cotton candy cocoon from Killer Klowns, limited to 50 pieces and measuring 13"x16".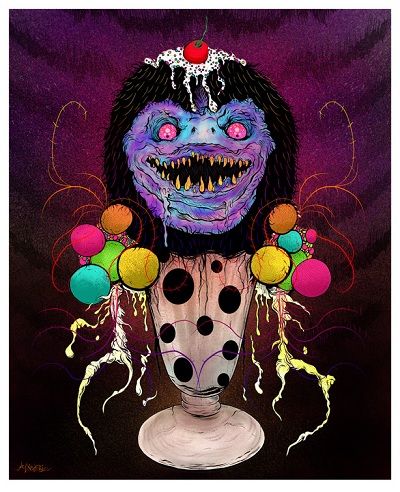 We move from cotton candy to ice cream with 'Crite Bite Sundae', a mash-up of Critters and Friendly's that measures 13"x16", and is limited to 200 prints.
Next up we've got an 8"x10" print inspired by one of my favorite things of all time, the Goosebumps book The Haunted Mask. Aaron's got this one available in three different color variants, but you're playing for the standard green/orange scheme.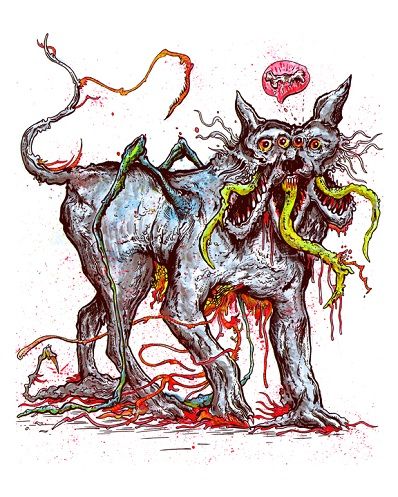 And finally, this last print, titled 'The Sweet Marrow' was inspired by The Thing, and it also measures 8"x10".
As if all that wasn't enough, Aaron will also be throwing in a sticker pack and one of his 'Monsterheads' button packs, the latter of which is pictured above. The buttons alone sell for seven bucks per pack in his shop, so the winner of this giveaway is really making out like a true bandit!
If you want in, all you've gotta do is head over to the
Cavity Colors Facebook page
, and give it a LIKE. Once you do that, leave me a comment below and tell me one horror movie you'd love to see Aaron put his unique and totally trippy spin on. Who knows, you just might inspire him for a future piece!
All comments must be received by next Saturday, January 19th, so be sure to leave yours before that day comes and goes. Good luck and a huge thanks to Aaron Crawford for being so damn generous.