One of the best things that has come out of me starting this blog is the fact that I've met so many awesome people through it, some who I've only spoken to online, and others who have become real friends of mine, outside of the confines of the keyboard and computer screen. I've found myself with a massive network of friends, who love the same things I love, and for that I am incredibly thankful.
Unfortunately, I found out the sad news that one of those friends recently passed away. As a tribute to one of my fallen horror buddies, I just wanted to tell a little story about him, since I do in fact have a nice little story to tell.
As most of you probably know, Jamie Lee Curtis made her very first horror convention appearance this past November, at Indiana's HorrorHound Weekend. Pretty much every horror fan in the country immediately began scrambling to buy tickets after hearing the news, not only because it was her first show, but also because she announced that it would in fact be her only convention appearance, ever. It was a once in a lifetime event, that instantly rose to the top of the collective horror fan bucket list.
The night before the convention, I got a message from a reader named Matt Crozier, who made me an incredibly generous offer. He bought a $300 VIP pass to meet Jamie Lee at the show (which also included a weekend pass), but found himself unable to actually attend the convention, a result of some personal issues. So Matt offered to give away the VIP pass on Freddy In Space, in the event that any of my readers were attending the show, and were not able to snag the pass required to meet Jamie Lee, which as you can imagine sold out pretty damn fast.
So I made a little post on the Freddy In Space Facebook page about all this, asking if any of my readers were in fact attending HorrorHound, and were interested in the pass. I ended up getting a reply from a reader named Michael, who told me that he was going to HorrorHound, and really wanted to meet Jamie Lee, but was unable to afford the special ticket upgrade needed to meet her. Bingo. I had found my guy.
And so, I put Matt in contact with Michael, and a few days later, received a message from Michael, thanking me and telling me about his encounter with Jamie Lee Curtis, which I couldn't have been happier about playing some small part in bringing about.
Tonight, I wanted to share that message with you guys, which Michael gave me the go ahead to post about way back in November, though I just never got around to doing so. Since the message was very personal, Michael asked me to not mention his last name in the post, and it seems only right to honor that wish.
Here's the message that Michael sent to myself and Matt, shortly after getting home from HorrorHound...
______________________________________
Hey, guys. Sorry it took me a week to get back to you, but as you can guess it's been a busy one. I really wanted the chance to sit down and accurately paint a picture of what you guys did for me. I'll warn you now this may drift into too-much-information territory at times, but the devil is in the details.
SO, I heard about Jamie Lee Curtis coming to town when it was first announced months ago (Thanks Freddy In Space!). I was stoked that such a badass was coming to lowly Indianapolis and would be about a mile away, no less. I always knew that when I got my first tattoo it would have to be something really special. This was it.
Of course, between then and now, life happened. Long story short, I drink too much and people have been telling me to check myself into some kind of center for YEARS. This thing has taken me to some BAD places, far more frightening than some old horror flick. It got worse and worse and halfway through October I signed myself up for a nice little 12-step vacation. I went voluntarily and ponied up the cash myself. Let me tell you, this fucker was not cheap. Those 4 weeks weren't exactly fun, but they weren't as bad as I dreaded.
I got out and returned to real life on November 14th. My mom asked me if I was going to the convention to meet Jamie Lee Curtis and I dejectedly just said "OH, I don't know". Not only was I unsure about doing damage to my already-bruised bank account, but let's face it, these conventions are fantastic places to get loaded. I had already missed Halloween, the best holiday ever, this year, and had pretty much resigned myself to put it all behind me and hope for the best for next year.
SO, the day after I got out. I saw the post on Facebook, answered it, and heard back from John that night. This was way too good to be true.
I've long been a fan of Mrs. Curtis. A Fish Called Wanda was one of my favorite movies growing up. Halloween, of course, creeps me out every single time and remains not only one of my favorite horror films but one of my favorite films of all time. Hell, I even bought the action figure of her in Virus even though I've never seen that movie. It may seem corny but my respect for her is magnified by the fact that she is an outspoken sober person. I would never 'out' somebody for this, but I think if she can go on The View and tell Barbara Walters that getting sober was the greatest accomplishment of her adult life, then I can mention it here. Kind of puts those scenes of her boozing in H20 in perspective, huh?
I got to the convention armed with just Matt's email to me printed out and figured I would have to do some pretty good convincing to the event staff to let me in. Not at all, they were super friendly and helpful every step of the way. The people who work for these conventions have an undeniable and palpable appreciation for the genre.
The photo op was brief and seemed like a blur, but the autograph session was awesome. The guy in front of me had this painted mural with movie scenes with all the celebrities at the con. Jamie Lee in Halloween, Tom Atkins in Halloween III, young Michael Myers in the clown mask, etc. He had brought his own pen. She said the painting was neat but kept making jokes about the pen.
"Oh, this pen smells great. You guys should really invest in these. This is one of those pens you could put in a sack and...(pantomimed someone huffing)."
Then, I shit you not, she looked dead at me and said "Better get this pen away from me, before I need to call my sponsor!" I couldn't believe that after everything I had just went through she looked at me and cracked an AA joke.
My turn came and she shook my hand and signed the photo I had of her.

"I actually have a special request..", I said.

"What's up?"

"I'd like your help getting my first tattoo."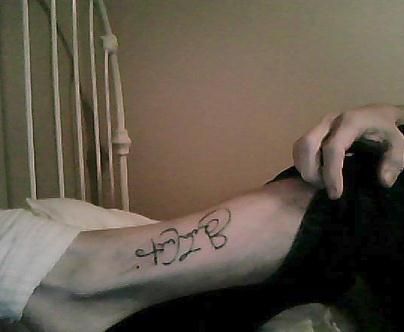 She slapped the table "Alright, put whatever it is, right here." She grabbed my leg with both hands and said where do you want it and how big? She signed it, thanked me for coming, and said she hoped it didn't hurt too much. I figured one sly AA reference deserved another so I said "hey, thank YOU..and keep coming back" to which she smiled and made this little pointing gesture.
So, all in all, pretty fucking rad experience and I just wanted to let you guys know how much it meant to me. I picked up 2 fridge magnets of Laura Palmer and Suspiria, an original poster for the weird-ass Disney film The Black Hole, and a Blu-ray of A Serbian Film (yuk). This tattoo beats them all and I'll remember this for the rest of my life.
______________________________________
In a later message, Michael mentioned to me that he was feeling like this whole experience falling into his lap, right after getting out of rehab, felt like more than mere circumstance. I think I'm gonna have to agree with him on that.
Michael, I'm so very glad that our paths crossed, and it was a pleasure to get to know you, even just a tiny little bit. Rest In Peace, buddy.