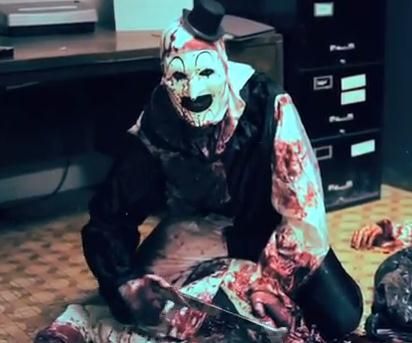 Though I personally didn't care too much for Mama, one thing about the whole project that I absolutely love is that it began its life as a short film, which Guillermo Del Toro saw and enjoyed, and then he used his influence and power in Hollywood to help the director turn it into a feature film. I think that's so awesome that Del Toro does things like that, and it really shows the importance of people with influence championing and supporting others. Without Del Toro, Andres Muschietti likely would've never gotten to turn his short into a full length movie, plain and simple.
The point I'm trying to make here is that I was inspired by the story of Mama's journey to the big screen. Now I know that I don't even have 1/100th of the power or influence of someone like Guillermo Del Toro, but I have built up a bit of a nice little readership here on Freddy In Space over the years, and I'd like to think that I can in some small way help out young up and coming horror filmmakers, who are looking to break into the feature length game.
Now I'm of course a lowly blogger at the end of the day, and I'm never going to be the guy to help someone turn a short into a feature, but the powers of simply sharing stuff around the internet cannot be underestimated, especially when it comes to the horror genre, which is a community largely driven by fan support and word of mouth.
So what I've decided to do is spend some time every week traveling through the oftentimes painfully bad world of horror short films on YouTube, with the goal of plucking out the gems, and shining the dim light of the Freddy In Space spotlight on them. If I can even get one person to see one short film that they otherwise would've never seen, then all the work is worth it to me. That's really what it's all about.

We kick things off tonight in pretty awesome fashion, with a short film called TERRIFIER!
Made in 2011, by special effects artist/filmmaker
Damien Leone
,
Terrifier
runs 20 minutes long and tells the tale of a young girl who ends up in the wrong place at precisely the wrong time, wherein she comes face to face with an evil killer clown. Thus begins a most hellish of Halloween nights for her.
Featuring a truly creepy clown, some incredible practical gore effects, and a nice little grind house aesthetic, Terrifier is a vicious little short that's guaranteed to please those who like their horror bloody.
Coulrophobics beware .... hit the play button below to enjoy Damien Leone's TERRIFIER!
Terrifier
is soon going to be turned into a feature length film by Leone, called
The 9th Circle
. A short
one minute long teaser
was recently released for the film, and it looks to feature an expanded story, wherein the killer clown from the short is only one of many evil creatures that run wild in it. Will of course keep ya posted on that project, when I hear more about it.
One thing I know for sure is that Damien Leone is a name we're all gonna be hearing a whole lot more of, in the future. Certainly an up and comer to be excited about!