2013 is looking like it's going to be one hell of a year for documentaries that delve into the world of horror. From a virtual trip to the glorious land of the horror convention to an examination of the hidden messages inside The Shining, a peek inside some of the most iconic rubber monster suits to a look at the rise and fall of the VHS tape, here are five upcoming documentaries (all fan funded on Kickstarter!!) that I am dying to check out ... and you should be too!!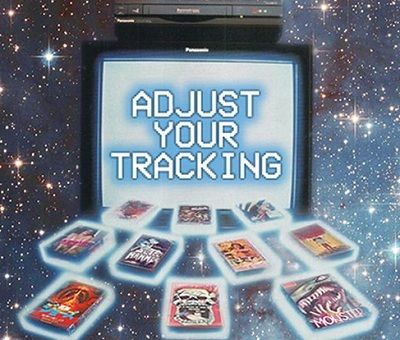 ADJUST YOUR TRACKING : THE UNTOLD STORY OF THE VHS COLLECTOR
RELEASE DATE : EARLY 2013
The first of two documentaries on this list dealing with something that's near and dear to my heart, the VHS tape,
Adjust Your Tracking
is a feature length documentary about the culture of VHS collecting, directed by Dan Kinem (of the website
VHShitfest
) and Levi Peretic. The documentary was successfully funded on Kickstarter back in the summer of last year, which fans of the undead format donated nearly $4,000 of their own money to.
Check out the teaser trailer below!
Though no official release date has been announced, Adjust Your Tracking is well into the post-production phase, and should be sliding its way into our VCR's sometime early this year.
FANTASM
RELEASE DATE : MAY 2013
As a long time horror convention attendee myself, I've often wondered why nobody has ever made a documentary about the wild and whacky hotel gatherings known as horror conventions, where horror fans and horror stars get together for one weekend a couple times a year, to celebrate the genre. Hell, I've even thought about doing it myself!
Thankfully, a fan by the name of Kyle Kuchta has gone out and done the hard work, so nobody else has to. A convention attendee since the age of 15, Kuchta decided to dig deep into the mind of the horror fan, and find out what it is about the genre that we all love so much. In his own words, Fantasm is "a documentary about horror fan devotion, and the events that keep us devoted."
If that sounds good to you, check out the just released teaser trailer for Fantasm!
MEN IN SUITS
RELEASE DATE : OUT NOW!
So remember how up above, in the title of this post, I said these were all 'upcoming documentaries'? Well, little did I realize until I started actually writing the post that this particular one is already out, apparently as of only a few days ago. I've never been so happy to be a liar!
We all love iconic movie monsters like the Predators and the Xenomorphs, to the point that most of us have probably adorned our bedrooms with their action figures. But how much do we really know about the actors underneaths the costumes? Not much, am I right? And that's what Men In Suits is all about; a look inside the rubber suits, at the actors who brought those creatures to life.
Directed by Frank H. Woodward, Men In Suits raised nearly double its funding goal on Kickstarter, back in September of last year. Check out the trailer below!!
REWIND THIS!
RELEASE DATE : PREMIERING AT THE SXSW FILM FESTIVAL, NEXT MONTH
Within the past week, Rewind This!, a project that was Kickstarter funded way back in early 2012, was accepted into this year's SXSW Film Festival, and had the awesome poster above and equally awesome trailer below hit the net. Billed as a "VHS love story", Rewind This! is set to delve deeper into the VHS revolution that anyone or anything ever has before, to be the "definitive account" of that home video revolution, and to examine "how it changed entertainment industries and evolved our relationship with media."
Watch the trailer below, and then rewind it and watch it again!
SXSW takes place March 8th-16th, with no date yet announced for when those of us not attending the festival will be able to check it out. But you can keep up to date on that information over on the
Rewind This! Facebook page
!
ROOM 237
RELEASE DATE : MARCH 29TH
Funded in 2011, Room 237 made its way through the festival circuit last year, where it garnered a whole lot of both critical and fan acclaim. So what is it? Well, it's a feature length documentary that explores the many theories about and hidden meanings behind Stanley Kubrick's masterpiece of horror, The Shining, from several different subjective points of view. A lot of people believe there to be a whole lot more going on with the film than meets the eye, and though no one is claiming that Kubrick intended it all, Room 237 nevertheless sets out to forever change the way fans view the film, which given everything I've heard about it, it is very much already succeeding in doing.
A seriously awesome new trailer for the doc just hit the net the other day, so check that out below!
This past week,
Room 237
made its way onto
iTunes over in the UK
, and it's set for limited theatrical release here in the states on March 29th, at which point it will also be hitting iTunes and On Demand platforms.
_________________________________
I know I've ragged on Kickstarter in the past, but I guess ya can't deny that the service does bring into our lives some pretty awesome shit, as these five films are stone cold evidence of.
Be excited .... be very excited!!!