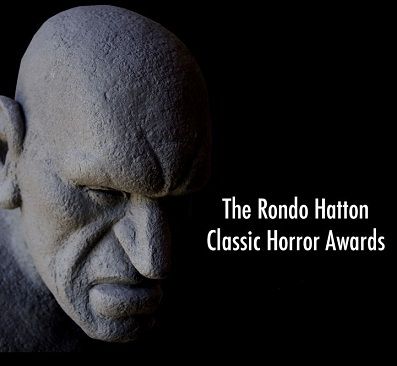 So this is pretty exciting. Every year, since 2002, an internet awards ceremony called
The Rondo Hatton Classic Horror Awards
has taken place, named after genre icon Rondo Hatton, and celebrating all things horror; movies, toys, websites, you name it. It wouldn't be out of line to call the Rondos the horror genre's equivalent of the Academy Awards, as they're certainly the closest thing we've got to anything like that. Winners even receive an actual physical award, a mini bust of Rondo Hatton, so that's pretty legit, eh?
One of the Rondo categories is for Best Horror Blog of the year, and I'm incredibly thrilled to report that the nominations for this year were just announced last night, and Freddy In Space was nominated in that category. This is my very first Rondo Award nomination, and though I don't much care for awards or need them to validate that I'm doing alright at what I'm doing, I can't lie; it's pretty awesome, and it's pretty exciting.
The nominees for the Rondos are apparently chosen by fan suggestions throughout the year, so it makes me feel pretty happy knowing that I got enough of those suggestions, even if I'm nominated alongside several blogs that were barely even updated last year (hell, one of them was updated A SINGLE TIME, in 2012). Guess it's not that impressive of a feat, but I'll quit raining on my own parade and I'll choose to just be excited about this.
The deadline for voting on these is April 7th, at midnight, and they make it one hell of a pain in the ass to actually vote on them. What you've gotta do is head over to
THIS LINK
, and then copy and paste the ballot into an e-mail to TARACO@AOL.COM, with your choices for each category. Totally archaic, I'm aware. I should mention that you don't have to place a vote in each category, so even if you only wanted to vote for Freddy In Space as Best Horror Blog, for example, you could do that. Not that I'm suggesting you do that or anything, but you could. Be sure to include your name in the e-mail, and only vote once.
Congratulations to all my fellow nominees!!