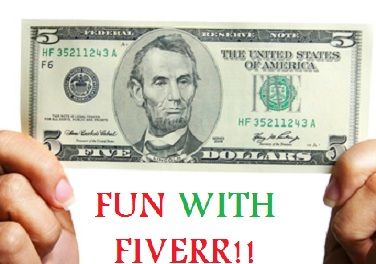 I recently discovered a website called
Fiverr
, where people essentially offer up different (non-sexual) services, for a mere five bucks. Whether you're looking for a banner for your website, a singer to sing a song you wrote or a fat dude to walk around all day with your product advertised on his belly, you can pretty much find someone on Fiverr to complete any given task you want, for a small $5 fee. Pretty brilliant, I must say.
Obviously, there is endless potential for fun with this service, and that's why I've decided to start up a new feature here on Freddy In Space, called Fun With Fiverr (probably should've used the service to generate a less shiteous banner for this feature, eh?). Basically, I'm gonna pay people five bucks to create some really fun and totally unique content here on Freddy In Space, and I expect that my five spots are going to earn me some pretty interesting blog posts, the likes of which I never could've pulled off on my own.
For tonight's very first installment of Fun With Fiverr, which should give you an idea of the kind of content I'm looking to draw from this service, I dropped a virtual $5 bill into the account of Fiverr user 'CHRISWALKEN'. As you probably guessed, this dude provides custom Christopher Walken impressions, and he will say anything you want him to say, as Walken. He's not the only guy on Fiverr doing it, given how popular the Walken impression is, but he's nevertheless the one I chose, mostly because his impression is pretty spot on, and because he has no limit to the amount of words he'll say.
I wanted to hear what it'd be like if Christopher Walken were hired to play Dr. Loomis, instead of Donald Pleasence, so I tasked this Walken impersonator to recite Loomis' iconic speech from Halloween, about his history with Michael Myers. Because come on, who the hell hasn't at least once in their lifetime sat awake in bed, and thought about Christopher Walken battling Michael Myers. Lord knows I have.
So if you've ever wondered how that speech would sound, coming out of Christopher Walken's mouth, click the play button below, and wonder never again!!
If you want your very own custom Christopher Walken voice recording, it's only gonna cost ya five bucks.
Hit up 'CHRISWALKEN'
over on Fiverr, and he'll hook ya up!
Fiverr, I've got a feeling this is but the beginning of a beautiful relationship between you and I!