I must say, right about now, it is a damn good time to be a fan of They Live, that movie directed by that guy about those super cool black sunglasses that help that wrestler see aliens.
Then, Trick or Treat Studios put out the very first
They Live
themed
Halloween mask
, modeled after the alien invaders in the film.
And now...
8-BIT ZOMBIE JUST RESTOCKED THEIR THEY LIVE SHADES!! AWWW YEAAAAAAAA!!!!!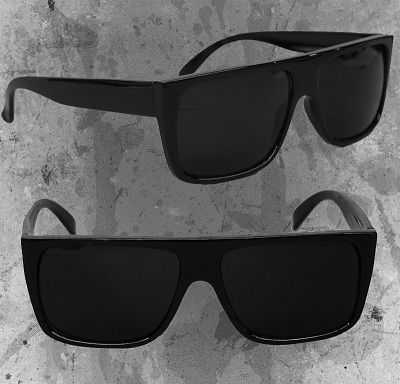 These are near exact replicas of the ones Rowdy Roddy Piper wears in the film, which allow him to see the alien beings who have invaded Earth, with intent to destroy it. These probably won't have the same effect, nor will they do you any good in a 15 minute fist fight, but hey, at least you'll look pretty cool.
These glasses have actually been available from 8-Bit Zombie in the past, though the ones in this new batch (unintentional Gremlins 2 reference...) look even more like the glasses from the film than the last batch did. That batch sold out pretty fast, so I'd expect these too will be gone in a rather speedy fashion.