Forget Valentine's Day. February 15th is where it's at. Why, you ask? Because a whole lot of cool shit is going up for sale within the horror community tomorrow. Since I don't want you to miss any of it, here's a quickie rundown of all the awesomeness, before I head off to sleep!
First up, this new limited edition Fright Rags shirt actually went up for sale tonight, and will only be available until 10am EST this coming Monday, the 18th.
Near Dark
is one of my personal favorite horror movies of all time, and I cannot possibly stress enough how excited I am that Fright Rags is
once again
giving such an awesome vampire flick their patented t-shirt treatment.
The design is available on men's shirts sizes small-5xl and women's shirt sizes small-2xl, as well as on hoodies, sizes small-3xl. Shirts are going for $25.95, and hoodies for $45.95.
Speaking of t-shirt companies, next up we've got a new offering from another one of my favorites; 8-Bit Zombie. Every so often they put out a new collection of coolness that they call Power Packs, and tomorrow at 12:00am MST, their latest one goes up for grabs. Actually, there are two of them this time, both packed with equal amounts awesomeness, only with different themes.
The one you see pictured above is the '8-Bit NES pack', which includes the following goodies...
• 1 Logo patch with iron-on backing
• 5 8BZ GPK stickers
• 1 Die cut Powerglove sticker
• 1 Die cut Super 8BZ cartridge sticker
• 1 NESball sticker
• 1 Logo collage sticker
• 1 8BZ Arcade Token
• 2 Random vintage NES cards
• 2 Random pixel buttons
And this is the '80s Action Pack', which comes jam packed with everything listed below...
• 1 MOTU 8BZ Patch with iron-on backing
• 1 COBRA patch with iron-on backing
• 5 8BZ GPK stickers
• 1 MOTU 8BZ sticker
• 1 Madball sticker
• 1 Pee-Wee sticker
• 1 Logo collage sticker
• 2 Random vintage 80's cards
• 1 Random M.U.S.C.L.E. Men figure
• 2 Random buttons
Both packs are selling for $15 a piece, and if their past releases of similar goodies are any indication, these are gonna sell out real fast. Also going up for sale tomorrow are 8-Bit Zombie arcade style coins, which are going to be three bucks a piece.
This silk screened Amityville Horror poster goes up for grabs tomorrow at 12pm EST, from 'cult decor' shop Skuzzles. The artwork was done by Jay Shaw, and three different versions of the print will be available; the regular edition (seen above ... 100 pieces, $35), the glow in the dark variant (with glow in the dark flies all over it ... 50 pieces, $45), and the 'maple wood variant' (18 pieces, $90), the latter of which is literally printed on 1/4" thick maple wood. I shit you not.
You can see detailed pictures of all the variants over on the
Skuzzles blog
, and they will all be up for sale tomorrow
on their homepage
. So happy to finally see
Amityville Horror
gettin' some love, in the kickass fan made poster department!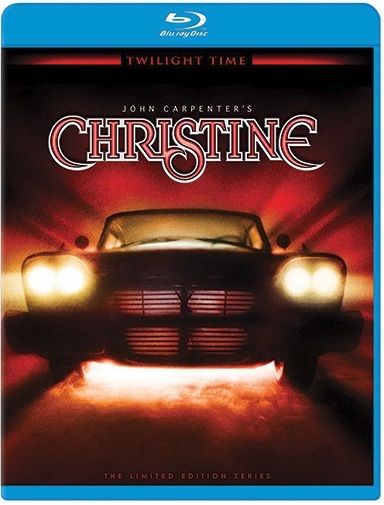 And last but sure as shit not least is the first ever Blu-ray release of John Carpenter's Christine, courtesy of home video label Twilight Time. Twilight Time is the same label responsible for the recent Blu-ray releases of the original Fright Night and Tom Savini's Night of the Living Dead remake, and this one is going to be limited to 3,000 pieces, just like those ones were.
The Blu-ray is Region Free, includes all the same special features as the Special Edition DVD release, and will be selling for $29.95. Tomorrow the discs go on sale for pre-order, with an estimated shipping date of March 12th.
Get yours exclusively through
Screen Archives Entertainment
, beginning at 4pm EST. I can promise you they will sell out real fast, and then get spun for quadruple the price on eBay soon thereafter, so if you want one, DO NOT HESITATE!!
And with that, I'd say your check for this week has already been spent. So I'll cut ya some slack, and stop there. My apologies in advance, to your wallet!