A couple weeks back, my friend Patrick Carson Sparrow debuted the image of this new Evil Dead poster he whipped up, which I subsequently shared on the Freddy In Space Facebook page. When Patrick saw how much you fine folks were digging it, he proposed to me an idea; let's sell it exclusively in the Freddy In Space Society6 shop!

It was an offer I of course couldn't refuse. After some chatting back and forth, Patrick's Evil Dead poster is indeed now available EXCLUSIVELY for sale in the Freddy In Space Society6 art shop, right alongside the Freddy In Space print that Patrick previously created for me. Very excited, and very honored, to have this awesome piece of art in there!

Oh and if you want one, now is definitely the time to get one; today only (2/10), Society6 is offering FREE SHIPPING in my shop. So hop on that while ya can!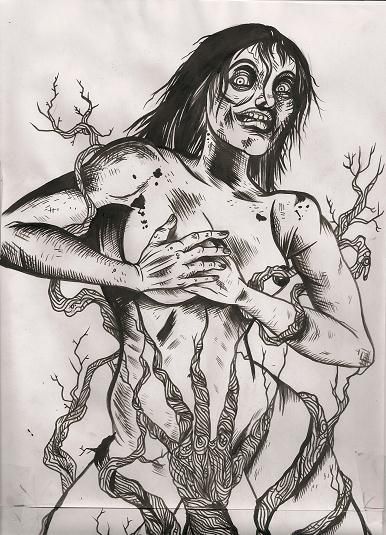 As a very special added bonus offer, Patrick has generously donated the original art for the poster (above), which as you can see ended up getting modified a bit. Interesting to note, this original art was based on the image of the
cellar demon
from the upcoming
Evil Dead
remake, which is rather fitting given that this poster doubles as both a poster for the original, and for the remake; whichever you prefer!
If you order the poster within the next week (now through February 17th), you will be automatically entered to win Patrick's original piece of art. All you've gotta do is drop me a comment below, letting me know that you've ordered it, and you'll be entered to win. Be sure to include your e-mail address, so I can contact you in the event that you do indeed win!
On one final note, just want to say that I can totally vouch for the quality of Society6's printing; I ordered one of the Freddy In Space prints for my dad for Christmas, and it is absolutely beautiful. The paper is of a very high quality, and the inks are bright and vibrant. Certainly wouldn't use them for printing if I wasn't happy with the quality, so you can take comfort in knowing you're gonna get your money's worth!