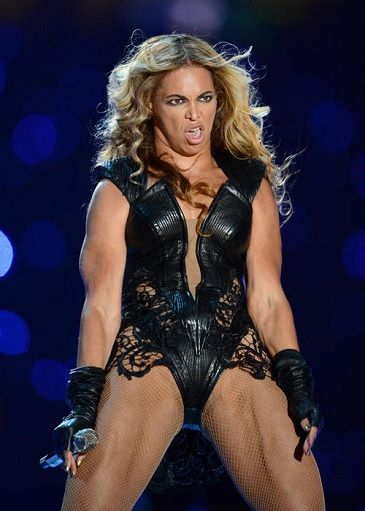 At the Super Bowl a few weeks back, Beyonce delivered one hell of a fierce and sexy half time performance, and the internet took away from it only one thing; this rather unflattering photo, of my girl Bey admittedly looking a little manly, and a tad bit frightening. She reportedly demanded the unflattering photo be removed from the internet, and the internet responded in typical internet fashion; the photo was instantly turned into a mega smash hit meme, with everyone and their mother altering it and cluttering up all of our Facebook walls with images of Unflattering Beyonce lifting weights, taking shits and even
morphing into The Ultimate Warrior
himself (my personal favorite of them all).
Now I may be a little late to the party here, given the popularity of the Beyonce meme is dying down a little bit, with each passing day, but I was recently struck with the inspiration to turn Beyonce's most unflattering of photos into a little challenge here on Freddy In Space, an idea that I so fell in love with that you're just gonna have to excuse my fashionable lateness. Because I simply can't not go through with it.
So here's what I want you to do. I want you to get your Photoshop on, and in any way you'd like, insert Unflattering Beyonce into some sort of horror scenario (
CLICK HERE
, for the full size ready to be edited photo). You're free to do absolutely anything you want here, and the more creative you can get, the better.
To give you an idea of the kind of thing I'm looking for, please consult this hilarious take on the meme, which I stumbled across on Facebook a few days back...
I'm not judging you by your Photoshop skills here, but rather on your creativity. So keep that in mind.
Now obviously, I'm not going to issue a challenge and not put a prize at stake, both because I wouldn't feel right about you doing hard work with no chance of getting nothing in return, and because I know nobody would go out of their way to whip up an entry for this here challenge, if there wasn't some kind of potential gold at the end of the rainbow. I mean come on, I'm not an idiot.
Though this is more for fun than anything else, I'd like to offer up a copy of
Sinister
to the winner of the contest, on the winner's choice of either
DVD
or
Blu-ray
. One of my personal favorite horror movies of last year,
Sinister
was just freshly released on home video TODAY, so I think that's a rather fitting prize, don't you?
Again though. More than anything, this is about fun, and being creative. Send as many entries as you want to me at MORTIS45@AOL.COM, with the subject 'BEYONCE CHALLENGE'. Be sure to include whether you want Sinister on DVD or Blu-ray, in the event that you win. And if you choose DVD, it's really time you get with the times, and get a damn Blu-ray player!
You've got through next Tuesday, February 26th, to get your entry (or entries) in, at which point all of the entries will be posted here on the blog, and the winner will be chosen.
Good luck, and have fun!!