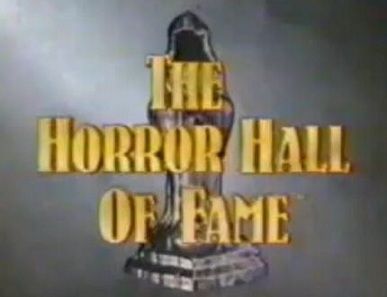 The 85th annual Academy Awards air tonight on ABC, and I for one am pulling for Silver Linings Playbook, Beasts of the Southern Wild and Django Unchained, my three favorite nominated films, out of the ones I've actually seen (five out of the nine, thus far). If I had to choose a Best Picture winner out of those three, I think I'm going with Beasts, though I expect Argo to take home the little golden dude.
But anyway, I digress.
Since tonight's the biggest night of the year for awards, it seems only fitting that this week's Vintage Video be somehow, in some way, connected to awards ceremonies. That's what I was getting at.
So tonight, we head back to 1991 for the second of only three Horror Hall of Fame ceremonies, the horror genre's version of the Academy Awards, which were hosted all three years by Robert Englund, and filmed at Universal Studios Hollywood.
At the 1991 ceremony, Englund was ambushed on stage by the late Sam Kinison, who surprised Englund with a loving tribute to Freddy Krueger, who at the time was supposed to have been killed off for good, in Freddy's Dead : The Final Nightmare. Of course, the irony of all this is that Freddy lived on, and Kinison was the one whose candle was snuffed out, just one year later.
So before you watch the Academy Awards tonight, step into the Freddy In Space Time Machine and travel back to 1991, for the Horror Hall of Fame tribute to the man, the myth, the burnt faced pussy; Freddy Krueger!!
The film chosen as best of the year, at the 1991 Horror Hall of Fame awards? Silence of the Lambs, which also won the Oscar for Best Picture!