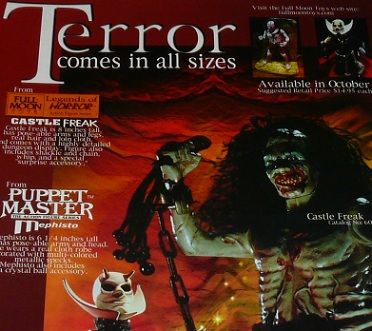 Troma or Full Moon; which is the better of the two low budget horror film production companies?
That is a question that horror fans will forever debate about. But no matter what your feelings are about the movies the two have put out over the years, one thing is for certain; when it comes to merchandising, Full Moon has always had the upper hand. One need only look at the two companies' online shops, for confirmation of this statement; the
Troma store
is filled mostly with DVDs, while the
Full Moon shop
is padded with everything from
Puppet Master
dolls to holiday cards, Zippo lighters to bras. Yes. Bras.
I rest my case.
Much to the dismay of many diehard Troma fans, Lloyd Kaufman has never turned his most popular characters into action figures. Sure, our beloved monster hero Toxie was given the toy treatment in Playmates'
Toxic Crusaders
line, and then again on his own,
courtesy of SOTA Toys
, but that's the beginning and the end of Troma's stay on the toy shelf. It seems fans will forever be left imagining a world where
Rabid Grannies
toys exist, rather than actually living in one.
Charles Band, on the other hand, has tapped into the toy market many times over the years. In addition to countless different Puppet Master replica dolls and a whole line of PM toys, Band also released a line of action figures called Full Moon's Legends of Horror, back in 1998. The line was comprised of just three different characters, though each of the three was released in four different variants, one set a store exclusive and another set exclusive to Japan.
Tonight, we dig into the Freddy In Space Toy Box and pull out Full Moon's Legends of Horror action figures, 12 different toys based on three Full Moon legends; Subspecies star Radu, the two headed beast known as Shrieker, and the nipple eating freak, from one of my personal favorite Full Moon titles, Castle Freak. Let's begin with him, shall we?!
REGULAR EDITION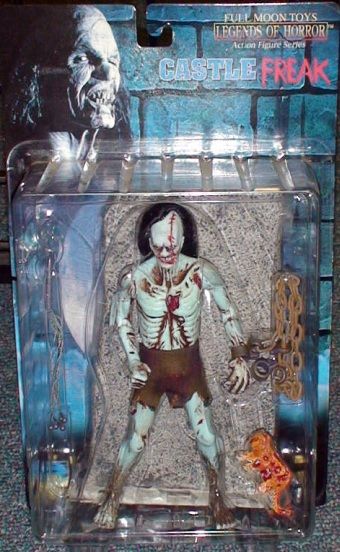 VARIANT
PREVIEWS EXCLUSIVE
JAPANESE EXCLUSIVE
Shrieker...
REGULAR EDITION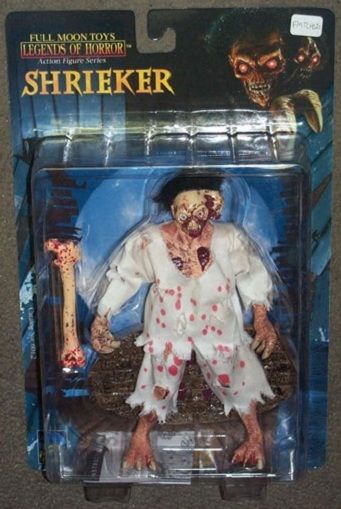 VARIANT
PREVIEWS EXCLUSIVE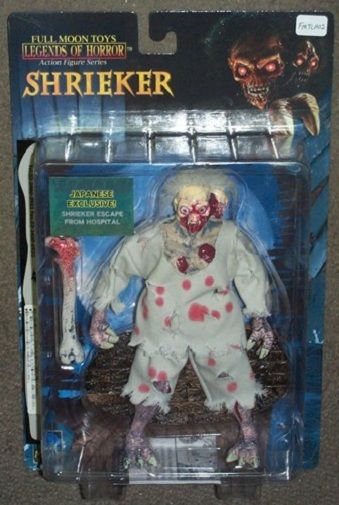 JAPANESE EXCLUSIVE
Radu...
REGULAR EDITION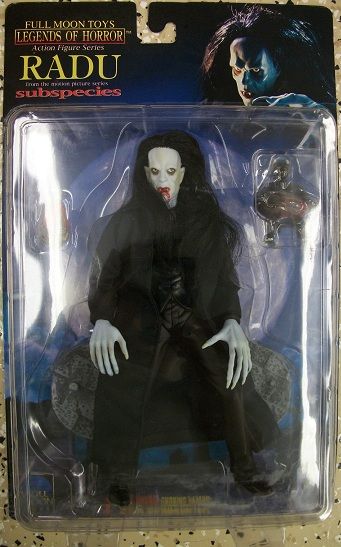 VARIANT
PREVIEWS EXCLUSIVE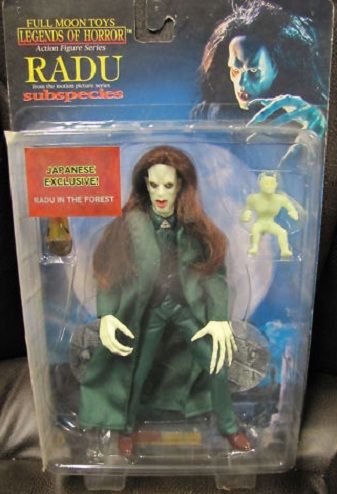 JAPANESE EXCLUSIVE
You can pretty much find these toys anywhere you look, be it on Amazon, eBay or at horror conventions around the country. Best of all, you're not gonna pay more than 25 bucks for any of them, even the exclusives. So you've got no excuse not to snatch them all up, Full Moon fans!
Now come on Troma ... get with the program. We want toys!!