Remember a couple weeks back, when I blogged about a mega sale that was going on over at authentic movie prop/wardrobe dealer CollectHollywood.com? At the time they were offering up 80% off of every single item in their shop, a shop that is full of props from films like Saw, Frozen, Land of the Dead and The Collector.
Well, like many of you who sent me e-mails and comments after reading the post, I was simply unable to resist such an incredible offer...
And so, last week, an unassuming looking package arrived on my doorstep, courtesy of Collect Hollywood. Inside, a hunk of flesh. But not just any flesh ... the flesh of Jigsaw's super sexy wife, Jill!!
This chunk of bloody rubbery flesh was used in Saw 3D, in the scene where Jill has a dream of being strapped into a highly gruesome trap by Hoffman, which completely tears her body apart, spewing blood and chunks of her sexy body all over the place. Just in case you need a little refresher course, here's the scene I'm talking about, which is referred to on the Certificate of Authenticity as the 'Go-Kart Trap Scene'!
With an original price of $34.99, the 80% off coupon code brought the grand total down to just 7 bucks, a price that I now realize is even more incredible than I thought when I bought this thing, given I didn't expect the hunk of flesh to be so big. Well, it only measures about 3"x5", but I was honestly expecting a thumbnail size piece of rubber. So color me quite pleased. And this totally looks like part of a boob too, which makes me even more pleased. At least, that's what I'm gonna pretend it is. Hopefully I get to meet Betsy Russell sometime, so I can chloroform her, bring her home and keep her in my basement as a sex slave have her sign it!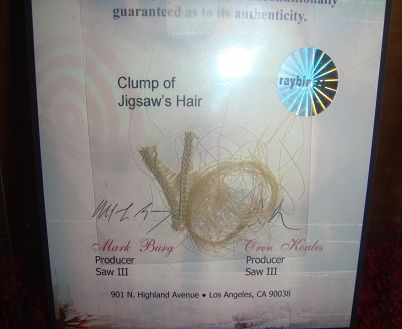 For now, this is gonna look real nice next to my lock of Jigsaw's hair from
Saw 3
, which I picked up years back from a previous
Raybin Management
sale. Collecting hair and flesh ... I'm really starting to sound like Eddie Gein here, eh?
The good news is that though the 80% off code is no longer valid, I do have another one for ya, that will slash 75% off all the prices in the shop. Don't know how long it's gonna last, but add any item(s) you want to your cart and enter the coupon code HORROR, and a whopping 75% will be deducted from your total. They don't have nearly as much as they did in there a couple weeks back (Jill's body chunks are all gone...sad face), but there are definitely still some awesome treasures for the taking.