Right off the bat, I would like to thank
FEARnet
,
Strange Kids Club
and everyone else who shared
the first series
of these around the internet, making them a huge success. As with everything I do, it's the reactions from you guys that let me know what to do more of, and so when I see things like these being spread around, liked and commented on, it's a sure thing that you're gonna be getting more where that come from, in the future.
And the future. Is now.
So check out Series 2 of the Freddy In Space Horror Popsicles, another awesome collaboration between yours truly and Freddy In Space's resident artist, Mr.
Frank Browning.
The idea with these was to make them look like the advertising art you see stickered to the side of the ice cream man's truck, letting you know what popsicles he's got behind that window. In a perfect world, those stickers would look a little something like these!!
**CLICK TO SET THE MOOD, WHILE YOU VIEW THE IMAGES!**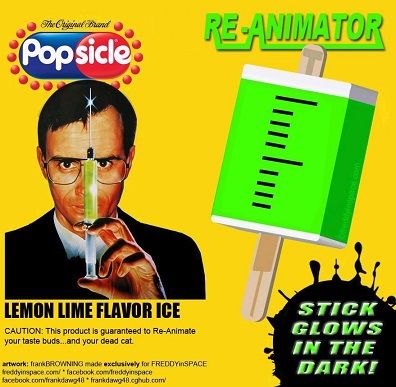 As always, you will find full size images of these on the
Freddy In Space Facebook page
, for easy sharing with your friends. Please do share them around, if you dig 'em!