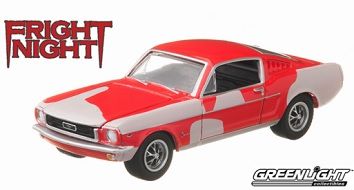 A couple weeks back I got a message from reader Kristina Lakey, who informed me of a website that was promoting what looked to be an upcoming Matchbox style car, modeled after
Charley's ride in the original Fright Night
(a 1966 Ford Mustang Fastback). The website showed off the picture seen above, but other than that it was impossible to really figure out what it was and if it was even real or not, since the website was in Portuguese...not my native language.
Now the part where this post becomes somewhat of an exclusive is that Kristina about a week later sent me a follow-up message that included a picture she took of one of the actual prototypes of the toy car, which a friend of hers somehow managed to snag and send her way. Check out the picture proof that this thing is real, and it's not some sort of weird exclusive that's only available in Portugal!
At this point I still had no idea what the story was behind this thing, or when/if it would be available to the public, so I conducted a little research and found out that the car is being put out by
Greenlight Collectibles
, a company that specializes in die-cast replicas of iconic pop-culture cars. Ah ha. That makes sense.
Still though, I wasn't able to find any information about this particular one on their site. So I got my sleuth on and placed a call to the company...
Turns out, the
Fright Night
car is going to be a part of a
10 pack
, packaged alongside cars from movies like
Footloose
and
Catch Me If You Can
, and TV shows like
Bewitched
and
Amazing Race
. Unfortunately, the rep from the company told me it will only be available in that 10 pack, despite the prototype picture Kristina sent my way that seems to indicate it will be packaged alone.
He told me the set will be released sometime in mid-late September, and that it will be available for purchase online and at various brick and mortal retailers, like hobby stores, Meijer and even Toys R Us.
The only thing that's throwing me off here is that the Fright Night car is being released by Greenlight Collectibles' 'Greenlight Hollywood' label, so I'm not sure why the prototype image has it packaged inside of a Johnny Lightning package. I'm not all that familiar with toy cars, but I'm pretty sure the two companies have nothing to do with one another, so I'm still a little confused about all this.
But what I know for sure is that a replica of Charley Brewster's car is headed our way next month, and that's pretty awesome regardless of whether we're able to get it individually or in a 10 pack. Even if it truly only is available in that 10 pack, I'm sure we'll be able to score it on the cheap once people start selling individual cars on eBay!
UPDATE : Just got an e-mail from the person who sent Kristina the car, which totally clears up the confusion...
"It is not a prototype for the upcoming Greenlight Fright Night car. It is actually an "unofficial" Johnny Lightning car that was released last year in their 'Work in Progress' line."
So it looks like the two cars have nothing to do with one another, and that the official Fright Night car (seen at the top of this post) will be released in that 10 pack, sometime in September.
If you want to pick up the Johnny Lightning car, which is an unlicensed replica of Charley's car, you can grab that on Amazon!
Many thanks to Kristina Lakey for informing me of all of this. Kristina actually puts on her own zombie walk in Flint, Michigan, so if you live anywhere near there, be sure to check out the
Flint Zombie Walk website
for all the info!