As you know if you follow me on
Facebook
and/or
Twitter
, I attended
Monster Mania
this past weekend, which marked the 10th anniversary of the convention and the 25th show they've put on in those 10 years. A couple years back I started a tradition of returning from each convention I attend with a one of a kind piece of autographed memorabilia that I can give away here on the blog, and I wanted to step up my game even further this year, by offering up something truly special and unique.
I found that something at K-Mart, in the seasonal section...
When I realized that Timothy Balme, who played Lionel in Dead Alive, was going to be at the convention, I just knew I had to find some sort of toy lawnmower, to get signed by him. Perhaps the most iconic scene in Dead Alive is when Lionel picks up a lawnmower and starts chopping up oodles of zombies with it, and I figured there couldn't possibly be a more unique piece of memorabilia to return home with than a lawnmower, signed by Lionel himself.
And so I headed out to K-Mart the night before the convention, on a frantic search for an $8 lawnmower that was advertised on their website. After a fruitless search, I was directed to the seasonal section by a grumpy employee, and there it was; a kiddie sized green, red and tan plastic lawnmower, just waiting for Balme to etch his Hancock onto it. Thank god I found it, because my only backup plan was to slap an actual lawnmower blade down on his table, and I really didn't want to do that!
As good of an idea as it seemed at the time, I admit that I began to have reservations when I got to the convention, and realized I would have to walk around with a pretty big toy lawnmower, and actually ask Balme to sign it. I pushed it off until about an hour before the autograph room was set to shut down on Saturday night, guzzling down a few bottles of pumpkin flavored liquid courage and finally heading down into the heart of the hotel and going for it.
Happy to report that Balme set me at ease immediately with his incredible kindness, an encounter that went quite well and wasn't nearly as embarrassing or awkward as my social anxiety had fooled me into thinking it was going to be. Balme mentioned that he had signed two toy lawn mowers for fans in the past, but that I was the first and only one at this particular convention who brought one to his table. Admittedly what I was hoping to hear!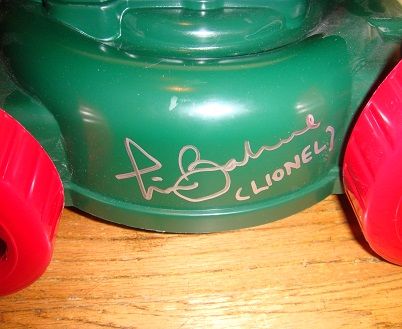 He signed his name on one side of the mower and wrote "Party's over" on the other, the line he spouts before turning the zombies into a messy pile of red goop in the movie, instantly transforming a piece of shit, poorly made plastic toy into the ultimate Dead Alive collectible...if I may say so myself!
Now that I've actually got this thing signed and in my room, with a pretty awesome memory attached to it, I admit that I'm having a hard time parting with it, but I'm going to hold true to my promise and give it away to one of you fine readers, rather than keep it for myself. Because I love you, and you deserve it.
How do you enter to win the signed toy lawnmower? It's pretty simple! All you've gotta do is help me out by signing up for
the official Friday the 13th community
that I'm now moderating over on the social media platform Kumbuya (
click for info
), and then leave me a comment on this post with your e-mail address, letting me know you signed up.
What does Friday the 13th have to do with Dead Alive? Well, nothing really, but I'm very excited about working with Warner Bros. on building up this official Friday community, and it would help me out a great deal if you signed up and checked it out. Warner Bros. is using the community as a way to gauge interest in the franchise, and the amount of members and fan interaction they see on the page is going to not only make me look good in their eyes, but also let them know that we're craving the return of Jason.
It only takes a couple minutes to sign up, and that's all you've gotta do to be entered to win this kickass piece of Dead Alive merch, which you won't find anywhere else. Deadline for entries is next Monday night, August 26th, so make sure to get your comments posted by the end of the night on that night.
Good luck to all!