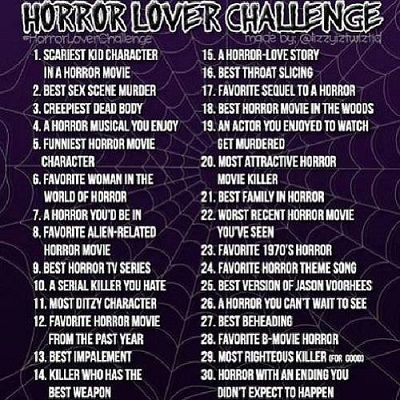 I stumbled upon this little horror movie challenge on Facebook earlier this morning, which was created by
@LiZZYizTWIZTid
, some girl with purple hair who has a serious fondness for the letter Z. Since I've got nothing better to do right now I've decided to tackle Lizzy's challenge, in two parts so as not to completely bore you with one massive wall of text.
So yea. Let'z do thatz.
1) SCARIEST KID CHARACTER IN A HORROR MOVIE
Forget that little emo brat from The Omen, the scariest horror kid of all time is hands down Gage Creed, from Pet Sematary. He's a goddamn undead toddler who wants nothing more than to slice your Achilles tendons and give you a Joker mouth...what could be scarier than that?!
2) BEST SEX SCENE MURDER
Well then. Sex scene murder. Only on question 2 and you're already making this tough for me, Lizzy. Let's go with that scene from the original I Spit on Your Grave where Jennifer seduces that rapist dude and then cuts his dick off in the bathtub. That blood bubble that comes to the surface makes me cringe every time. Hell, just thinking about it makes me wish I was a woman.
3) CREEPIEST DEAD BODY
I think I speak for everyone reading this right now when I say that I'll never get the above image from The Ring out of my head, for as long as I live. I've never met a dead body that wasn't creepy, but that right there is a dead body that you wouldn't want to take home to your mother.
4) A HORROR MUSICAL YOU ENJOY
I actually don't enjoy musical movies at all, no matter how hard I try. Sweeney Todd didn't work for me. Repo : The Genetic Opera didn't work for me. None of them work for me. That being said, I did get the chance to see a live presentation of Evil Dead : The Musical many years back, and that was an absolute blast...which is saying a lot, considering I don't typically go for that sort of thing!
5) FUNNIEST HORROR MOVIE CHARACTER
There's no horror movie character that makes me laugh more than Roland Kincaid, from Dream Warriors and Dream Master. I don't think he was ever actively trying to be funny, but Ken Sagoes' angelic voice just makes me so happy, and cracks me up like no other.
6) FAVORITE WOMAN IN THE WORLD OF HORROR
I've always had a whole lot of love for Elvira. She somehow still looks as good today as she ever did, and I'd love to see her start doing more of the fun stuff she used to do. I think she's got one more movie in her, and I KNOW we all need a little more Elvira in our lives!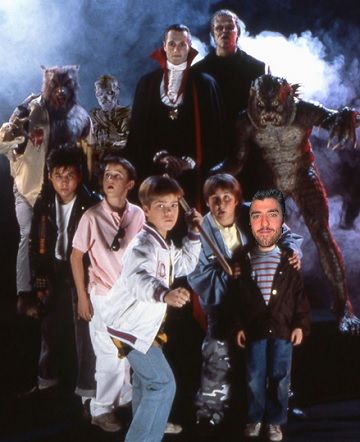 7) A HORROR YOU'D BE IN
As in...a horror movie I'd want to be in? Or a horror movie that would have a character like me in it? You're making this really hard on me Lizzy, and I'm kinda sorta regretting taking you up on this challenge.
Regardless of which question you're asking, I'm gonna go with Monster Squad. Not only would I have loved to have been in that movie, but I think me as a kid would've totally made one hell of an addition to the Monster Squad. Just look at me up there. I fit right in, don't I?
8) FAVORITE ALIEN-RELATED HORROR MOVIE
Horror movies don't get much better than The Thing, if you're asking me. Which you are. So The Thing. Definitely The Thing.

9) BEST HORROR TV SERIES
As tempted as I am to say
The Walking Dead
, I'm instead gonna give some much deserved love to
Hannibal
, which is one of the most incredible and amazing TV shows of all time. If you for whatever reason missed the first season, just go ahead and
pre-order it
sight unseen. I'll refund your money if you don't completely fall in love with it.
(Don't hold me to that, since I cannot even afford to pre-order it for myself.)
10) A SERIAL KILLER YOU HATE
This is a really hard one, because I just love most serial killers so much. Hard to pick one that I am not totally enamored with. I can't do it. Pass.
(Yes, I'm kidding. I hate them all.)
11) MOST DITZY CHARACTER
Probably Pinhead. Such a little scatterbrained klutz.
12) FAVORITE HORROR MOVIE FROM THE PAST YEAR
One of the only horror movies (if we can call it that) released this year that I was really impressed with was
Antiviral
, directed by Brandon Cronenberg. Brandon really tapped into his dad David's earlier works of body horror, and in the process created a completely original and awesome masterpiece of his own. Can't recommend that movie enough.
13) BEST IMPALEMENT
Do I even need to answer this one?
14) KILLER WHO HAS THE BEST WEAPON
The coolest slasher weapon is and always will be Freddy's glove. Not even the Voorhees-heads of the world can deny that.
15) A HORROR LOVE-STORY
Chan-wook Park's Thirst was pretty goddamn romantic. In particular that scene where the vampire dude snaps his girlfriend's neck (at her request, mind you), and then brings her back to life, as a vampire, when he realizes he doesn't want to live without her. Warms the cockles of my heart.
Part 2...coming soon!