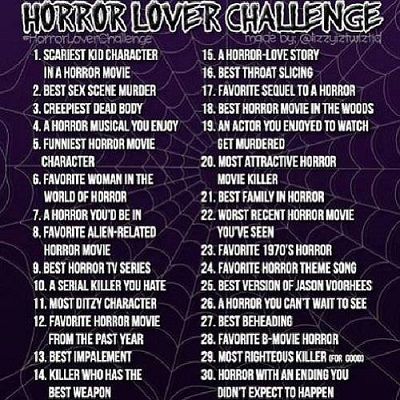 It was almost a full two weeks ago that I tackled
Part 1
of this random challenge, with the intention of finishing it off the following day. Since a large portion of the eight hours I spend writing per day is nowadays devoted to other projects (like
FEARnet
,
Dread Central
,
iHorror
&
Kumbuya's Friday the 13th community
...cheap plugs all around!), you'll have to excuse my unavoidable lack of focus on my own little corner of the web.
But better late than never, right? Someone said that, I think. I'm almost sure of it.
Time to tackle Part 2 and put this bad dog to sleep!
16. BEST THROAT SLICING
Nothing like a good throat slicing, a moment of gore that almost always makes me cringe. It's like a paper cut...but to your throat...and you're probably not going to survive it. There was a pretty fun one in You're Next, but I'd have to award the honor of the best to that brutal axe to the neck scene from 30 Days of Night. A bit more than a mere throat slicing, for sure, but that moment will forever be engrained in my brain. They totally channeled Rob Bottin's effects from The Thing for that scene, and I love it.
17. FAVORITE SEQUEL
Before The Mask. Oh wait, that still hasn't gotten funded. So I'll go with Psycho 2, which might very well be the best horror sequel ever made...certainly one of the most underrated. That movie has no business being as good as it is, and deserves all the praise in the world for being a worthy follow-up to such a classic. Bravo Tom Holland, and everyone involved.
18. BEST HORROR MOVIE IN THE WOODS
Evil Dead 2, of course. Love the first one, but the fun of the second one really won me over. It's like the first one...except even more entertaining.
19. AN ACTOR YOU ENJOYED WATCHING GET MURDERED
Can there be any answer to this question other than Paris Hilton, in the House of Wax remake? Then again, can we really consider her an 'actor'? Either way, it was awesome seeing her get a pole shoved through her head...even more enjoyable than seeing her get one shoved down her throat. Oh snap.
20. MOST ATTRACTIVE HORROR MOVIE KILLER
Would you judge me if I said Madman Marz? Fine, then I'll go with May, from May. I love Angela Bettis and I'm not sure I'd even mind if she wanted to cut off my hands and use them to create a perfect friend. Go for it, sweetie. Be my guest.
21. BEST FAMILY IN HORROR
The Fireflys. I kinda love them, even though I know it's totally weird to love them. Damn you, Rob Zombie.
22. WORST RECENT HORROR MOVIE YOU'VE SEEN
Earlier this morning I watched
Fright Night 2: New Blood
, which was a totally pointless remake of the remake. You can read my full review
over on iHorror.
23. FAVORITE 1970s HORROR
Not an easy decision, given so many great horror movies came out in the 70s, but I simply must go with The Exorcist. Still to this day one of the most effective horror movies ever made. Will probably never be topped.
24. FAVORITE HORROR THEME SONG
Click play. And good luck getting it out of your head tonight.
25. BEST VERSION OF JASON VOORHEES
I'm one of the few who actually preferred Jason before he became a "zombie." The Jason from Final Chapter is the one I look up to as being the quintessential Jason, though I of course love all of his incarnations. Well, aside from Jason Goes To Hell. And I probably could've done without uber Jason, even though Jason X is a lot of fun.
26. A HORROR YOU CAN'T WAIT TO SEE
Every movie that I was looking forward to this year has already come out, but I do find myself kind of excited about
Curse of Chucky
, which
hits home video on October 8th
. I've heard good things and I'm looking forward to the return of old school Chucky...without his bride. Really hoping it doesn't disappoint.
27. BEST BEHEADING
I still consider the decapitation scene from the original Omen to be the best of all time. So impressive, especially considering it was made so long ago. Blew my mind the first time I saw the movie, and totally did not expect it.
28. FAVORITE B-MOVIE
Ice Cream Man. I've talked about it enough, so I'll spare you.
29. MOST RIGHTEOUS KILLER
Hm, not all that many horror movies have killers that can be considered 'righteous.' I totally was with Sarah when she stuck that pick-axe into Juno's leg and left her for dead in The Descent though. Is that OK to admit? Bitch had it coming.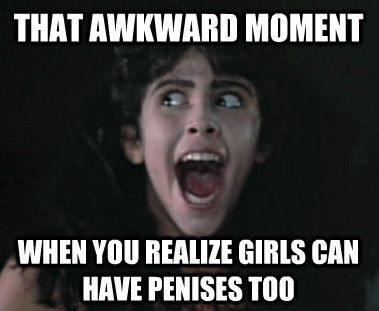 30. HORROR WITH AN ENDING YOU DIDN'T EXPECT TO HAPPEN
Sleepaway Camp. Nothing more shocking than a penis in your face, when you don't expect it. Actually, it's pretty shocking even when you do expect it. Also gotta give kudos to The Mist for going to a place I'm still shocked Darabont had the balls to go. Good god that was brutal.
If you tackle this challenge on your own blog, leave a comment below with a link, so I can check out your answers!