A few weeks back
I talked a bit about
the next release in the Freddy In Space line of Horror Decor pillows, but since we're now about 24 hours away from that release, I wanted to take another couple minutes to fill you in on all the details, and show off some pictures of the actual pillows. So let's do that!
Last month,
Horror Decor
and I teamed up to release a
My Pet Monster pillow
, the first in a line of pillows that I've been given free reign to dream up and design. I've been a big fan of Horror Decor for a long time, and it was because of how impressed I've been with the consistent quality of their output that I jumped on this opportunity when they presented it to me. Believe me, my name's not going on anything I don't personally approve of, and there's nothing I approve of more than Horror Decor's pillows.
And so I enlisted the help of my buddy
Patrick Carson Sparrow
(a super talented artist), and came up with the theme of childhood nostalgia, for the Freddy In Space pillow line. It was exactly one month ago today that the My Pet Monster pillow went on sale, and it only took a few hours to completely sell out. Thanks to the success of that release, there was no question about whether or not we'd be doing another one, and I wanted to go even bigger this time around.
It was Patrick who came up with the idea for a Madballs themed pillow, and he went way above and beyond the call of duty by not just drawing established Madballs characters, but instead turning a whole host of iconic horror villains into their very own Madballs. And he didn't just make one design with all of them on it. Oh no. He whipped up eight different pieces of art; one of which had every ball on it, and then seven individual drawings of each individual ball.
This completely changed the plan for the release, in the best of ways, and I just knew that we had to utilize all of the art, and release not just one pillow...but eight of them. Yes, eight of them.
And so, here's what we've done....
Like the My Pet Monster release, the pillow with all of the balls on it will be limited to just 25, and they will be selling for $25 a piece. Why is this one $5 more than the My Pet Monster pillow? Because this pillow measures approximately 16"x16", nearly double the size of the My Pet Monster pillow!
It's hard to tell in pictures, but here's a little comparison shot, to give you an idea of the size difference...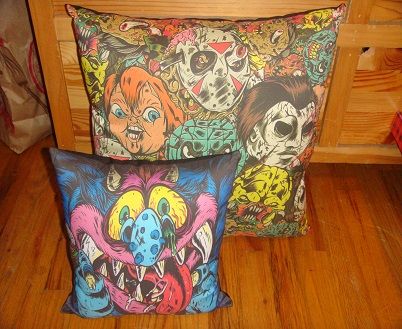 I am so incredibly pleased with how this bad boy looks in person, and I am 100% sure that you will feel the same way. I truly didn't even realize how much of a step-up this release was, until I got this sample in the mail last week.
But let's not forget, that pillow is only the beginning!!
At the very same time, we will also be releasing seven other round pillows, which have a 12" diameter and will be selling for $20 a piece. These individual pillows will not be limited editions, allowing you to snatch up your favorite icons whenever you want, without worrying about grabbing them before they sell out. Each individual round pillow has a different color back, corresponding to the character printed on front.
Snatch up your favorites or collect 'em...the choice is yours!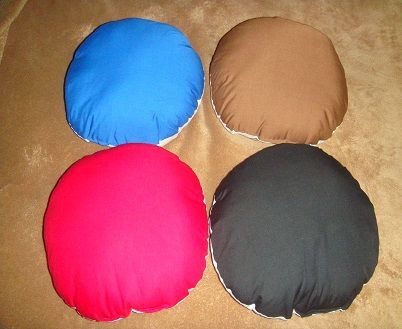 Love the way the round pillow design on these makes them look like actual Madballs come to life. That was the idea, and the fine folks over at Horror Decor made it happen like they always do!
So again, just to reiterate. The big pillow with all the balls on it is limited to 25, and will be selling for $25, while the individual round pillows are not limited, and will be selling for $20 each. Get it? Got it? Good.
All of the pillows go up for grabs at 7pm EST tomorrow (August 22nd), exclusively
over on Horror Decor
!
If you have any additional questions about this release, drop a comment below and I'll get back to you as soon as possible!