Last month I made a 'Random Shit In The Background' post about
Dream Warriors
, after noticing a
Gremlins
birthday card hanging up in the Wizard Master's Westin Hills living quarters. You can read the whole post
HERE
, but the long and short of it is that the card was from a collection of
Gremlins
themed party merchandise that Hallmark put out, back in 1984; plates, napkins, cups, you name it.
Cut to this past weekend. I went to the post office to check the Freddy In Space PO Box and I found in there a mega sized bubble mailer, from reader Russ Troutt. Inside the bubble mailer, wrapped in Gremlins wrapping paper, was the coolest care package I've ever received; an awesome 80s birthday party come to life!
Let's peel back that Gremlins wrapping paper and see what's inside, shall we?!
More wrapping paper! It's funny because I was carefully ripping the wrapping paper away from the package, not wanting to damage the paper, and the first thing I saw upon opening it was in fact more wrapping paper, still sealed in the packaging. It's as if you read my mind, Russ!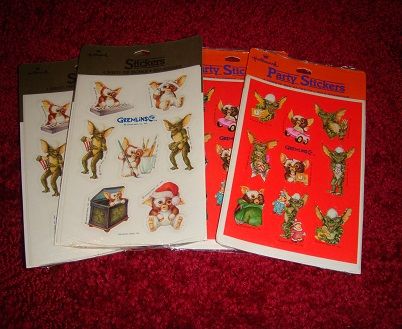 Stickers! And not just any stickers...PARTY STICKERS!!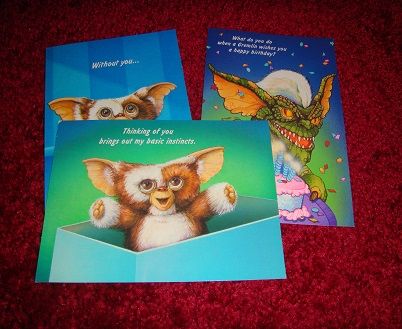 Greeting cards, including the one the Wizard Master had hanging in his bedroom!
Napkins! As cool as the
Godzilla
ones I found at a
yard sale
a couple weeks back are, I think these take the cake as the coolest napkins ever made. I never in my life thought I'd actually have my own napkin collection, but I'm surprisingly OK with it.
And finally, the Gremlins Collector Album, which was designed to house "all your Gremlins goodies." Inside are a bunch of folders, to provide safe keeping for your stickers, cards and other little odds and ends.
Needless to say, these are all going to make incredible new additions to the ever growing Gremlins wing of my collection, and I cannot thank you enough Russ for this unexpected and highly nostalgic little birthday celebration. I have no idea what kind of sorcery you utilized to find all this stuff, sealed and in pristine condition, but I'm keen to believe it is you who is the real Wizard Master!!