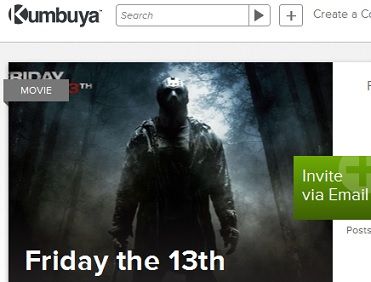 I realize that the headline above means nothing to you at the moment, but allow me to explain!
Last week I got an e-mail from the guy who runs a new social media platform called
Kumbuya
, which launched late last year and is described as "a web-based platform where people with shared interests can form a group to share online content and sell products to each other." Basically how it works is that fans create 'communities' centered around things they love, and then other users can add to and interact with those communities, thus creating outlets for fans to get together and share in their passions.
Well Kumbuya recently inked a deal with Warner Brothers to launch official communities centered around some of their most popular properties, and one of those properties that they wanted a community built up around is the Friday the 13th franchise...which between you and me leads me to believe that they're definitely planning on finally unleashing a sequel to the remake, real soon!
So in that aforementioned e-mail, I was asked if I wanted to be the curator of the official
Friday the 13th
community on Kumbuya, meaning I would post content and keep the community running smoothly, helping to build it up and get it out there. Though my hands are pretty damn full with other projects at the moment, including writing for
FEARnet
,
Dread Central
and now
iHorror.com
, I simply couldn't pass up the opportunity to work directly with Warner Bros. to build up one seriously awesome community centered around one of my favorite movie franchises of all time. Who better than me, I figured!
So, long story short, I am now the curator of the official
Friday the 13th community on Kumbuya
, which from this point forward will be the place to be for all fans of the franchise. If you are one of those fans, I encourage you to take a few minutes to
sign up for Kumbuya
,
join the community and start posting content of your own so that we can build this thing up together. I've been told I'll be getting exclusive never before seen content to add to the community from time to time, so you're definitely going to want to keep your eyes peeled over there!
This should be a lot of fun, and I hope you'll join me and help make the Friday the 13th community as fun a place to hang around as possible. So come on over and let's build this bad boy up and make Jason proud!!