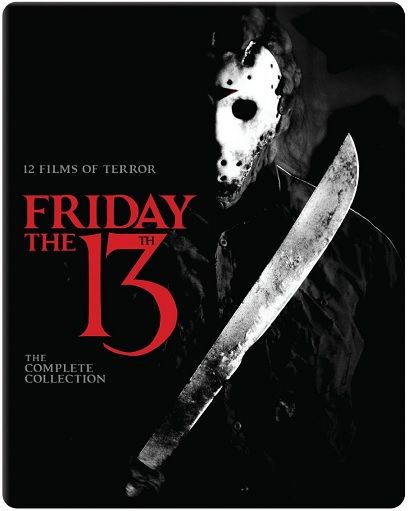 A week and a half from now will be the first Friday the 13th of 2013, a date which is all the more exciting this year because on that date Warner Bros. is releasing
the entire Friday franchise onto Blu-ray
, for the very first time. Housed inside of a nice tin case, the set includes all ten films in the original franchise as well as
Freddy vs Jason
and the 2009 remake. Also included are a few bonus goodies, including a 40-page book, 3D glasses and even an embroidered Camp Crystal Lake counselor patch.
Needless to say, it's a must own set for all fans of the franchise, especially considering the majority of the films have never before been released onto Blu-ray. Which is why it's so exciting to me personally that I managed to get my hands on a copy. But I'm not going to open it. You know why? Because it's not for me. It's for you.
That's right. I've got on my hands on one copy of the complete collection, and I want YOU to have it. So listen up and follow the rules, and it could soon be yours!
To enter, all you've gotta do is head over to
the official Friday the 13th community
that I moderate, over on Kumbuya. I know I've kinda beaten this community into your heads in the last few weeks, but it's something I'm very excited to be a part of, and I'm really working hard to get as many people over there and interacting with the community as possible. Without interaction from other horror fans it's just me posting content on there, and that's quite frankly no fun at all. So I want you guys to come on over, join up and help buil
d
the community with me.
So if you want entry into this awesome giveaway, sign up with the community (if you haven't yet) and leave a comment on the giveaway post that I made over there, which will be pinned to the top of the community for the duration of the contest. You won't have any trouble finding it, but if you want to head straight to that post,
CLICK HERE
to do that.
All you need to do is comment with your favorite scene from the franchise, and you've got yourself an entry.
If you would like an additional entry, to increase your chances of winning, simply share the giveaway post that I just linked to on your Facebook page. You can do so by clicking the little 'f' icon that appears under the picture.
The deadline for all entries is at midnight on Friday, September 20th, so be sure to get your comments in and shares shared before that time passes!
Good luck to all!!