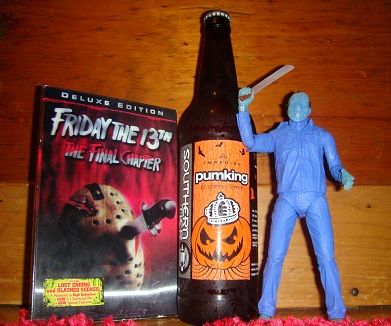 This Friday is of course Friday the 13th, and I've been working hard all week to make my own contributions to the festivities, on my various writing outlets across the web. Tomorrow over on FEARnet I'm taking a look at all of the women who played Mrs. Voorhees in various installments in the franchise, and on Friday the
Friday the 13th
edition of my feature
'Top 10 Must-Own Toys'
will drop over there. So keep your eyes peeled for those!
Over on iHorror
, the 2,000 word post I wrote in defense of the 2009
Friday the 13th
remake was just posted earlier today, and I encourage you to give that a read if you find yourself with some time to kill. Feel free to leave a comment at the bottom of the post, letting me know if you agree or disagree with my assessment of the film!
Since I didn't feel it was celebration enough to simply write up a few posts, I've also decided to host a
Final Chapter
live chat-along session, which I hope you'll join me for. It will be held in the official
Friday the 13th community
that I moderate over on Kumbuya, which makes the most sense considering the community has its own built-in chat feature. You'll see it in the lower right-hand corner of the screen, when you're on the community page.
Final Chapter is my personal favorite installment in the franchise, and the idea is that we all gather together in the chat, hit the play button on the DVD/Blu-ray at the same time, watch the movie together and chat along as we do. I'm assuming that most of you who will be interested in taking part do in fact own a copy of the movie, but even if you don't, I invite you to pop in, have some drinks and shoot the shit.
The fun kicks off at 8pm EST this Friday night, over in
the Friday the 13th Kumbuya community
. Stay for the duration or just stop by for a couple minutes, either way I'd love to see you in there.
And in case you weren't aware, I'm giving away a copy of the
Friday the 13th
Complete Collection Blu-ray set in the community, and you'll still got through next Friday, the 20th, to enter. So
head over there now
to find out how you can score yourself three entries into the giveaway.
See ya Friday...hopefully!