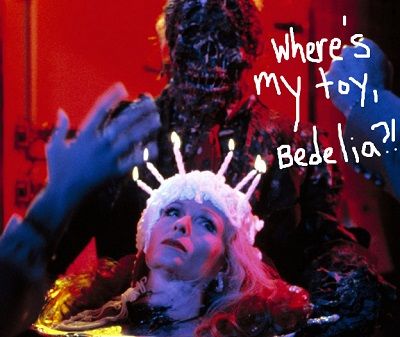 I've made a few posts in the last couple months about
Retroband
, which is quickly becoming one of my favorite companies out there. Retroband deals in limited edition releases of custom toys, the kinds of toys a company like Kenner would've put out in the 80s...if we lived in a world that was tailor made for us horror fans/toy collector geeks.
Previous releases from the company have included a Night of the Creeps alien/worm thing, as well as two different Creepshow themed offerings; a pack of cockroaches from the segment "They're Creeping Up On You!" and most recently, the action figure debut of Jordy Verrill. Jordy was available in two different forms, one of which saw him with only a few patches of that green mossy shit on him, and a variant that had him completely covered.
All of those releases sold out almost immediately, their limited nature and sheer awesomeness making them instant fan favorite collector's items.
Releasing tomorrow (9/2) at 10am CST is the next Retroband offering, which continues the Creepshow theme and infuses a little Father's Day into Labor Day. This time the decayed corpse of Nathan Grantham gets the action figure treatment, and he's bringing his birthday cake with him!!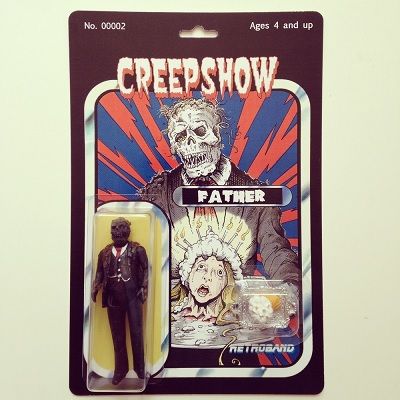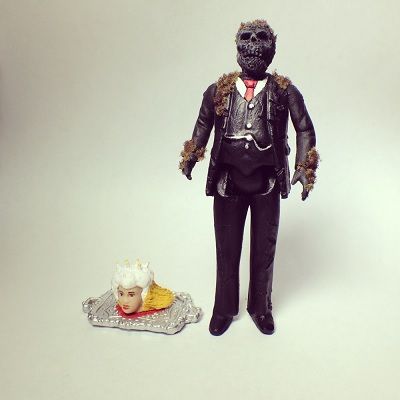 This figure is limited to only 35 and I can guarantee you that they won't last long. Due to the fact that these are completely handmade, he's gonna run you $65, a hefty price tag that is quite frankly totally justified for such a limited and awesome little toy. Pay the rent or buy a Nathan Grantham toy? I don't know about you, but I'm feeling like the landlord can wait.
Again, these go on sale at 10am CST tomorrow, only over on
Retroband's website.
Five random orders will receive a free signed
Creepshow
print from artist
Cody Schibi
, who provided the packaging art!