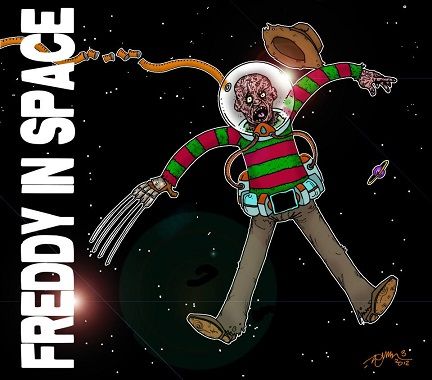 Not that it should come as a surprise to anyone who's a regular reader of this blog, given the fact that my lack of updates have most likely clued you into what's going on, but after 5+ years I think it's time to officially announce that Freddy In Space – as a blog – is no more.
When I started blogging over five years ago, my plan was never to make a career or a living out of doing it.
And the only reason that was never the plan was because I never in a million years thought that I'd ever be able to make a living writing about horror movies.
It just wasn't something I ever even fathomed.
And then, back in July, I lost my job.
While I'd love to spin some exciting tale about quitting or getting fired, the reality is that I worked at a small family run independent pharmacy, which became yet another victim of the big guys right at the start of the busiest time of the year; the summer.
The writing was on the walls for the better part of a year, so the clearance sales and eventual locked doors were far from unexpected or shocking. But finding yourself without a job, when you've got bills to pay, is not exactly a good thing.
Thankfully, my panic was quickly washed away by a friend of mine – a fellow employee of the pharmacy who wisely jumped ship to a fancy furniture store a couple months before we sunk like the Titanic.
Right at the tail end of the pharmacy's run, he graciously put in a good word with his boss and helped me get an interview at the furniture store, which I totally nailed.
Happy ending, right?
Well, not exactly.
Because though I impressed myself with my interview skills, and though the job offered more money than I made at the pharmacy, I knew before I even went in for the interview that the job just wasn't for me.
I'm the kind of guy who wears the same flannel shirt and pair of jeans every single day of his life.
The kind of guy who at the end of the day isn't exactly a high class individual.
I think I'm a pretty good person, don't get me wrong, but I'm just not the type to be shopping in a fancy furniture store, much less working in one.
I just knew the position wasn't for me, and though I gave it my best shot, I realized by the end of only the first day that I needed to get out.
Even if it meant not having a job for a while, and being forced to look for something else, the $600 dessert spoons made of bone went against everything I stand for and I just knew I couldn't go on working there.
The money was good, but it wasn't about the money for me.
It was about doing what was best for my soul (I really need to stop watching Dr. Phil).
And what was best was fleeing that place like it was a goddamn crime scene. Don't pass go. Don't collect 200 dollars. Just get. The fuck. Out.
And so there I found myself yet again, jobless and worrying about my future.
Just as I was getting ready to throw in the towel on my writing-for-the-hell-of-it career, and start focusing on devoting my time to a career that would actually pay the bills and keep a roof over my head and food in my cheeks, a handful of different opportunities presented themselves – opportunities that suggested that maybe, just maybe, I would be able to make my hobby my job.
They say everything happens for a reason, and I've seen no better example of that in my own life than in the moment these opportunities sprung up, mere days after losing my job and finding myself totally lost in regards to what to do next.
Goddamn.. could it be that everything really does happen for a reason?
Because I always thought that was just a bullshit slogan designed to make you feel better when life slams you right in the nuts.
Four months later, my hobby has indeed become my career, and I am in fact doing what I never in a million years thought I'd be able to do; I'm making a pretty decent living writing.
Nothing else.
Just writing.
Believe me when I say that I can hardly believe it myself.
I pinch myself every morning.
And I don't know how long it'll last.
But for right now, I'm living the dream, and it feels pretty damn good.
Unfortunately, there is a downside to this.
And that downside is that I simply do not have the time to run my own blog anymore.
It's not that I'm lazy, it's not that I'm 'selling out,' and it's sure as hell not that I've lost interest in Freddy In Space.
As much as it pains me to see five years of consistent daily work turn into yet another horror blog that's taking up space on the web and no longer bringing anything new to the table, the fact is that it's impossible for me to make a living writing for several sites AND run my own.
Every minute I spend writing a post on here is taking away a minute I could be spending making money freelance writing for others, and if I'm not putting my all into making a living doing what I love then I just won't be able to continue making a living doing what I love.
That's the unavoidable truth.
The upside?
I've been fortunate enough to land gigs with horror sites that I'm personally a huge fan of, which has kept me from trying to take on freelance gigs that consist of writing about topics that I know nothing about, or couldn't care less about – truthfully, I'd rather work 9-5 at the grocery store than write about sports or vacation spots.
Essentially, I'm getting to do the same thing I did here on Freddy In Space every day, just on sites that reach a wider audience than this one ever could've. And that, is pretty awesome.
It's a dream come true, to say the least, and I can with 100% confidence say that none of this would've been possible without the 5+ years that I spent pecking away at the keys and building up a reputation through this blog.
Mind you, I didn't know that's what I was doing – I thought I was just having fun! – but that's what ended up happening and I am eternally grateful to each and every one of you reading this right now, for supporting me and helping to make Freddy In Space what it ended up becoming.
It's just time to move on, is all.
Now the reason I titled this post The New Beginning, rather than The Final Chapter, is because I'm not actually going anywhere.
True, Freddy In Space: The Blog won't be getting updated anymore. But
Freddy In Space: The Facebook Page
most definitely will.
The Facebook page is pretty much going to take the place of the blog from this point on, serving as a place where I can share content I write for other sites and also talk about the same sorts of things I always have here on the blog – from thoughts on movies to personal stories and tales of drunken adventures.
And of course, I'll also continue
tweeting on the Freddy In Space account
, likely for as long as I live.
Or least until I'm around 40.
I think that's the cutoff for tweeting.
Unless you're a celebrity.
And I'm not.
So really, I'm not going anywhere, and neither is Freddy In Space.
In addition to the continued social media presence of the blog, there are a handful of sites that I contribute regularly to, which I'll give you a rundown of below.
These are the places where you can find my writing on pretty much a daily basis, sites that I hope to continue contributing to for years to come.
If any changes are ever made, or additions added to the mix, I'll be sure to update this post to reflect that…
iHorror
– A fairly new site, iHorror has got some incredibly talented writers attached, and we're all working hard to make sure it becomes a daily visit for all horror fans.
I contribute news stories, new release movie reviews and lots of other weekly goodies, on a daily basis.
If you're looking for my thoughts on new horror movies, this is where you'll find them!
Dread Central
– News is the name of the game over on Dread, and I churn out a handful of news stories every day of the week for my man Uncle Creepy.
Pretty cool, considering Dread Central is the one site I've always gone to for my horror news.
It still is, but now I'm helping to write it!
Halloween Love
-My most recent gig is with this horror and Halloween-themed blog, and I've been lucky to be given complete freedom to write about whatever I feel compelled to write about. In that sense, Halloween Love essentially allows me to continue doing what I was doing here on Freddy In Space, which is pretty awesome. Makes me feel like I've still got my own home here on the web, just housed under a different roof!
I hope you'll continue to follow me as I inject myself into as many different places around the web as I can, and I thank each and every one you from the bottom of my heart for all of the incredible support and love you've shown me throughout the years.
Without all of you, I'd probably be bagging groceries right now instead of typing this, and please know that I appreciate you for that. Every second you've spent reading the things I write means the absolute world to me. Sincerely.
Remember; this isn't The Final Chapter, it's an exciting New Beginning… except, I'm not going to be replaced by a paramedic with a dead son.
Take comfort in that!