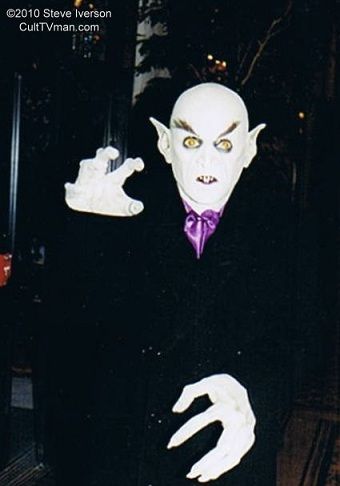 As you probably gathered by a few of his music videos (including, of course, Thriller), Michael Jackson was by all accounts a big time fan of classic horror films. And what do fans of horror movies do? Well, they attend horror conventions. But when you're as big of a star as Michael Jackson was, life isn't so simple. One cannot simply waltz into a crowded hotel and hang around for a few hours, unnoticed, when one is Michael Jackson. So what's the King of Pop to do?
Well, in 1995, legend has it that Michael wanted to attend the Famous Monsters Convention, not as Michael Jackson, but rather as just another fan. In the event's costume contest, Michael saw the opportunity to do just that.
Dressed head to toe as Nosferatu, Michael was completely unrecognizable, and no one was the wiser. There, standing in front of the crowd, was one of the most iconic figures in pop culture history, and on that one night, for that one fleeting moment, Michael was just another face in the crowd. Disguised as one of his favorite horror icons, the King of Pop was just a fan.
For this week's Vintage Video of the Week, check out an Inside Edition news report from 1995, which peeled back the Nosferatu mask and exposed the man underneath.
This certainly wasn't the only time Michael Jackson wore a disguise out in public, and it seemed like he was forever chasing the feeling of just being a normal person, and living a normal life. Though I can of course only speculate as to how Michael felt when he was up there on stage at the Famous Monsters convention, fooling everyone into thinking he was just another fan, ya gotta believe he was at peace in that moment, and I can't help but smile at the thought of that.