As promised, here is Part 2 of
last night's post
, where we're taking a look at characters that were played by different actors in horror sequels than they were in the films that came before them.
Again, we're sticking to cases where the actors were still very much able to play the roles, and were asked to, but where things just didn't work out. So situations like the re-casting of Andy Barclay for Child's Play 3 or Damien for The Omen sequels don't quite fit the bill, considering those were roles that quite frankly had to be re-cast, to fit the passage of time depicted between films.
Also excluding the many cases where a masked/make-up covered villain was played by a different actor, given that's pretty much common practice in the world of horror sequels. That's a whole different post, for a whole different day.
Now that I've re-iterated that, here's the exciting conclusion of the list!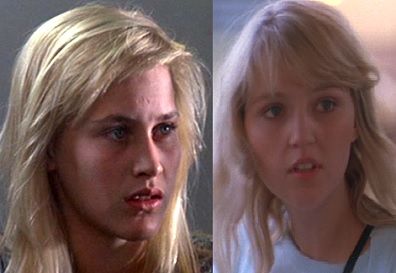 KRISTEN PARKER - DREAM WARRIORS/DREAM MASTER - PATRICIA ARQUETTE/TUESDAY KNIGHT
The only dream warriors left standing after part 3 of the Elm Street saga were Kristen, Kincaid and Joey, and all three characters returned in the follow-up, Dream Master. In a forced decision that made my childhood very very confusing, Kristen was not played by Patricia Arquette, while the other two warriors were the very same Kincaid and Joey we fell in love with in Dream Warriors.
Since Patricia Arquette was pregnant at the time Dream Master was filming, Tuesday Knight was brought in to take her place. As a result, it would be many years before I even realized the Kristen from Dream Warriors was the same Kristen as the Kristen from Dream Master. Not easy for a child to grasp!
Interesting little side note is that Tuesday Knight pulled double duty on the film, playing Kristen as well as performing
the opening theme song
!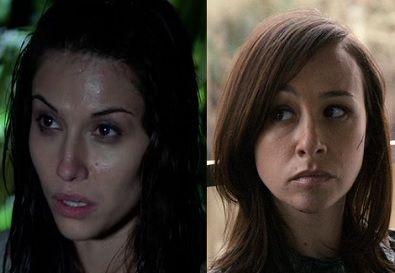 MARYBETH DUNSTON - HATCHET/HATCHET 2 - TAMARA FELDMAN/DANIELLE HARRIS
Adam Green's plan for Hatchet 2 was to make it bigger and better on every level than the first one, a plan that quite frankly worked out perfectly when original Marybeth, Tamara Feldman, wasn't interested in reprising her role. From what little I've heard in regards to this, her and Green had some sort of falling out, which forced him to move on without her.
With Feldman's departure from the sequel, a spot was opened up for Green to make good on his bigger and better promise, which is precisely what he did when he cast beloved genre veteran Danielle Harris in the role. With Harris on board, the character became a true Final Girl icon, and she will be reprising the role in
Hatchet 3
, out next month.
Speaking of Danielle Harris...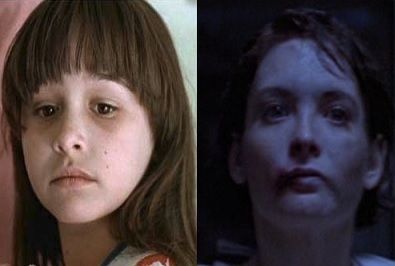 JAMIE LLOYD - HALLOWEEN 4+5/HALLOWEEN 6 - DANIELLE HARRIS/J.C. BRANDY
Before Danielle Harris was given the opportunity to take over a role for a sequel, she herself was replaced in the role that made her a household name amongst horror fans. Since Halloween 6 was written to take place six years after the events of Halloween 5, and since six years had actually passed between the filming of the two movies, it made perfect sense that Danielle Harris would return to play a teenage Jamie Lloyd.
Dimension wanted Harris to reprise the role, but due to a series of issues, including salary disputes and Harris' disapproval of the script, particularly in regards to the decision to kill the character off so early in the film, Harris declined involvement, and British actress J.C. Brandy took over the role. Interestingly enough, Harris and Brandy are actually friends in real life!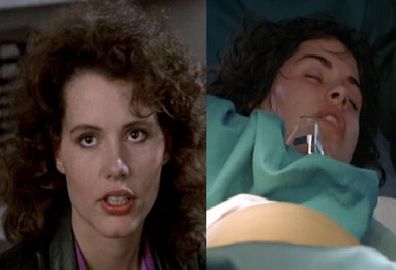 VERONICA QUAIFE - THE FLY/THE FLY 2 - GEENA DAVIS/SAFFRON HENDERSON
With Seth Brundle obviously very much dead at the end of The Fly, the only logical way to make a sequel was to have Veronica give birth to their mutant love child, and go from there. The plan was to bridge the gap between the two films by having Geena Davis reprise the role for the opening birthing sequence, but since Davis wasn't into the idea of revisiting a character that was going to be immediately killed off, Saffron Henderson (who played the rocker chick Jason kills with a guitar in Jason Takes Manhattan!) had to be brought in for the scene.
Cleverly, a clear shot is never seen of Veronica's face in her one scene, so it's hard to even tell that it wasn't Davis. Henderson's voice was even dubbed over Davis', for flashback scenes from the first film.
Reportedly, there was a point in time where Davis was actually on board for a sequel called Flies, which was to be directed by her then husband Renny Harlin. In that version of the sequel, Veronica was going to give birth to twin boys, rather than dying off in the early moments.
MOTHER FIREFLY - HOUSE OF 1000 CORPSES/THE DEVIL'S REJECTS - KAREN BLACK/LESLIE EASTERBROOK
What happens when an actress demands too much money to reprise a role, and a no nonsense guy like Rob Zombie is in charge? Well, that's exactly what happened with Karen Black on Devil's Rejects, when she was approached to reprise her role as Mother Firefly. Black reportedly demanded a much higher salary to return as the matriarch of the Firefly family, and since Zombie couldn't afford to pay her what she needed, he was forced to replace her with Leslie Easterbrook.
Ultimately a decision that was for the best, at least if you're asking me. Though Black was terrific in the role in Corpses, I think Easterbrook was more suited for the less cartoony depiction of the character, in Rejects.
The only other actor who didn't reprise his role from Corpses was Robert Mukes, who played Rufus Firefly. In an even smaller role in the beginning of Rejects, Rufus was played by Tyler Mane, who went on to play Michael Myers in Zombie's two Halloween films.
Which provides a nice segue into our final entry on the list...
...which brings the number to 11, rather than 10, but who's counting? Obviously I wasn't!!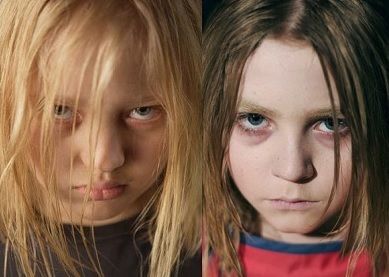 YOUNG MICHAEL MYERS - HALLOWEEN (2007)/HALLOWEEN 2 (2009) - DAEG FAERCH/CHASE WRIGHT VANEK
You might have noticed that the young actor who played a ten year old Michael Myers in the first half of Rob Zombie's Halloween remake was played by a totally different child actor for the flashback scenes (as well as those weird ghostly images of young Michael and his mom) in Halloween 2. Though the two films were only filmed a couple years apart, Daeg Faerch had already grown much larger than he was in the first film, so Zombie had to make the decision to bring a new actor in, who was closer to the size Faerch was when they shot Halloween.
Interesting to note, the original trailer for the film featured images of Faerch that were taken as test shots, which Zombie didn't plan on being used in the film or in the trailers.
__________________________________
I was totally going to include Ricky Caldwell from
Silent Night, Deadly Night 2
&
3
(
Eric Freeman/Bill Moseley
), but I've already stretched the list to 11, so I had to draw the line somewhere. No disrespect, Billy, and I hope you can find it in your black heart to take some comfort in the fact that I mentioned you at all!
If you know of any other instances like these, leave a comment and let me know!